20 Most Popular Southeast Asian Desserts
Southeast Asian desserts are gaining popularity around the world. Every day more and more Americans are drawn to try the delicacies Asian cuisines have to offer. From salty-sweet to savory-sweet combinations, Asian desserts are the perfect example of how mixing flavors can result in fantastic dishes people crave for.
Asian desserts are usually made with local ingredients such as coconut milk, palm sugar, rice, local herbs, and plants, like bananas, and mint. We can also see the influence of other cultures in Southeast Asian cuisine, where ingredients like butter and flour are widely used to prepare desserts.
If you are in the Texas area, don't forget to visit Char'd Kitchen and try the best Asian desserts in Richardson.
View Menu
Order Online Today
How Asian Desserts are Made
Southeast Asian food is considered one of the best cuisines in the world. Due to the wide variety of ingredients, flavors, and textures, we can find all types of dishes in the Southeast Asian region. From snacks to full dishes, Southeast Asian cuisine is known for mixing different elements, and the result is unique delicious dishes that have captured people's palate in America.
When talking about desserts, maybe French or Italian cuisine is the first thing you can think of. But, Asian cuisine has several desserts that can make you crave more. If you're wondering how Asian desserts are made, we will mention the common ingredients and steps to prepare some of the most popular Southeast Asian desserts at home.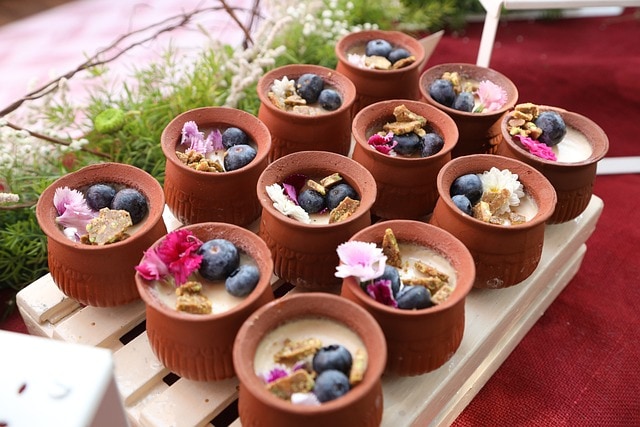 Rice: Mochi
Typically, in Asian cuisine rice is widely used in several of its recipes. However, it is also used in Asian desserts. One of the most popular Southeast Asian desserts is the Mochi. It is a sticky rice cake known as mochigome that is prepared from short-grain rice. In a ritual known as mochitsuki, the rice is traditionally cooked and pounded in a small mortar.
Eggs: Golden Threads
Eggs are widely used in desserts around the world, and southeast Asian desserts are no exception. Eggs in this case are used to prepare Golden Threads, which is a Thai dessert made by dripping egg yolks (often duck egg yolks) through a small funnel into a sweet syrup to produce long, delicious golden strings. Usually, pandan leaves are added to the syrup to give it a unique flavor.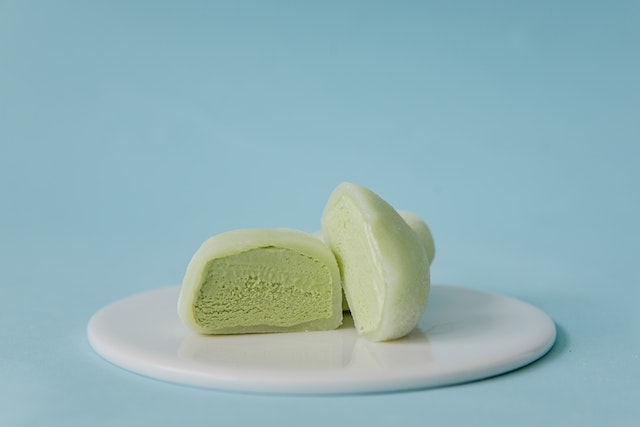 Coconut milk: Kuih Serimuka
Due to the geographical location of Southeast Asian countries, coconut is a common ingredient in both meals and desserts. In Malaysia, they prepared a dish called Sermikua. This is a type of Kuih that has two different layers. The top is a vibrantly green coconut milk custard that is flavored and colored with pandan leaves, while the base is made of glutinous rice cooked in coconut milk. The dessert has been recognized as one of Malaysia's historical cuisines and is frequently linked to Peranakan Chinese culture.
Bananas: Bánh Chuối (Vietnamese Banana Cake)
Bananas are a great ingredient in the preparation of Asian desserts, they are soft, sweet, and super versatile. In Vietnam, it is used to prepare Bánh Chuối, also known as Vietnamese Banana Cake.
This traditional Vietnamese delicacy can be baked or steam-cooked. Typically, it is made with sliced bananas and a creamy mixture of condensed milk, sugar, and coconut milk; additional ingredients like bread, eggs, or shredded coconut are optional.
List of Most Popular and Best Asian Desserts
As we mentioned, Southeast Asian cuisine is rich and delicious, having dishes that mix flavors and textures that create unique tasty dishes. And when it comes to Southeast Asian desserts, the flavors and ingredients mixtures have no limits. That's why we have created a list of the top 20 most popular and best Asian desserts.
Vietnamese Honeycomb Cake (Bánh bò)
Traditional Vietnamese sponge cakes known as Bánh bò are made from a light yeast batter and have coconut flavoring. There are various types based on the design, ingredients, and cooking technique, but every one of them has a distinctive, airy texture, which is why they are sometimes referred to as honeycomb or beehive cakes.
Khanom Khrok
This small Thai dessert, which is also known as a pancake, pudding, or cake, is made with a mixture made of rice flour and coconut milk. The dessert is usually made in two steps using a batter for the crispy bottom layer and a creamy, delicately sweetened coconut milk filling. It is baked in huge iron pans with small, round indentations.
Grass Jelly (Chao Kuai)
Chao kuai sometimes referred to as grass jelly, is a common Thai dessert that is usually served with crushed ice and dusted with brown sugar. Mesa chinesis, a plant member of the mint family, is used to make the jelly that serves as the base for this cooling treat.
Depending on the location, Chao kuai is either consumed on its own, drenched in condensed or evaporated milk, or combined with other fresh or canned fruit, such as jackfruit, mango, sago, watermelon, and cantaloupe.
Cendol
A common Southeast Asian dessert known as cendol can be found in many different forms in Indonesia, Malaysia, Singapore, Cambodia, Thailand, Vietnam, and Myanmar. This dish is commonly served in a sweet concoction of coconut milk, palm sugar syrup, and crushed ice. In its most basic form, the dessert comprises thin strips of jelly noodles that are typically colored and scented with pandan leaves.
Floating Glutinous Rice Dumplings (Bánh trôi)
The classic Vietnamese dessert known as "bánh trôi" is made up of delicious little balls of glutinous rice encased in a sweet filling. The blend of normal and glutinous rice flour, which is only mixed with water, is used to create the sticky and elastic dough for bánh trôi.
Puto
Popular Filipino steamed rice cakes known as puto are made with finely ground wet rice that is cooked in round containers and served sliced. The demand for these versatile cakes led to the creation of numerous current puto variations, which frequently change in texture, color, form, size, and flavor.
Bahulu
These classic sponge cakes, also known as Malaysian madeleines, are frequently consumed on major occasions like Chinese New Year and Eid al-Fitr (Hari Raya), which commemorates the end of Ramadan. Although they come in a variety of sizes and forms, little buttons (bahulu-cermai) and goldfish are the most well-liked (bahulu-ikan).
Steamed Tapioca Layer Cake (Bánh da lợn)
This classic Vietnamese dessert is made of chewy layers often prepared with mung bean purée, tapioca starch, rice flour, and coconut milk or water. Each cake consists of a green layer that is flavored and colored with pandan leaves and a pale yellow layer produced with mung beans, with durian or taro as optional ingredients.
Ruam Mit
Coconut milk, sugar, tapioca pearls, corn, lotus root, sweet potatoes, beans, and jackfruit are used to make the popular Thai dessert ruam mit. Each bowl usually contains starchy noodles, which can be either in the form of thin strips or more elaborate decorative forms and which are seasoned and colored with various seasonings.
Turon
This is a well-known Filipino snack prepared of saba plantains and jackfruit, a member of the lumpia snack family. The fruit is cut lengthwise, sprinkled with brown sugar, wrapped in paper-thin wheat tortillas, then deep-fried until golden and crispy.
Khao
Sticky rice is a staple of Lao cuisine and is used in both savory and sweet dishes. Steamed sticky rice and bananas are the main ingredients in this unique delicacy, which is a popular street food dish in Laos.
Kanom Tuay
Another coconut dessert, this time a steamed coconut milk pudding. This one includes a coconut base that is cooked to simulate custard and is topped with salty coconut cream. Another sweet-salty combo that causes a flavor explosion on your palate is this one.
Banh Chuoi
The steamed banana cake, a common Vietnamese dessert, is made using plantains. If you like, you can use plantain in place of the standard Cavendish bananas in this recipe. This is another Southeast Asian dessert with coconut milk that is frequently served with creamy coconut sauce.
Tang Yuan
The traditional filling for these glutinous rice balls, which are served in a ginger soup, is black sesame paste, but you can also use peanut butter, pumpkin, red beans, and other ingredients.
Kuih Keria
Sweet potato is used to make the deep-fried doughnuts known as kuih keria in Malaysia. The potatoes are blended with flour after being boiled and mashed to create a malleable dough that is then molded into doughnut rings.
Thai Pumpkin Custard
This traditional Asian dessert consists of a pumpkin with a custardy filling inside. Whole pumpkin, duck or hen eggs, sugar, coconut milk or cream, pandan leaves, cornstarch or rice flour, and salt are among the components.
Che ba mau
Che is a dessert cocktail from Vietnam (jelly, syrup, sweetcorn, ice, red beans, evaporated milk, and palm sugar syrup). Che comes in a variety of forms and sizes, as well as fruits, milk, and beans.
Sago Gula Melaka
Sago gula melaka is a pudding delicacy prepared from sago (the starch collected from the pith of various palm stalks) and gula melaka, as its name would suggest (palm sugar syrup). Although the recipe is simple, this pudding is a favorite among Malaysian sweets but is not always available in restaurants across the nation.
Apas
Traditional biscuits known as apas are from the Philippines' Lucena province. With undertones of sweetness and milkiness, these Southern Tagalog delicacies are based on a standard biscuit. They have a wafer-like shape, are incredibly thin, and are dusted with sugar. Most markets in the Philippines sell thin, crispy cookies.
Roti Tisu
It's made with the same dough, which is stretched thin and sometimes up to five or six feet long before being quickly pan-fried. Tisu is commonly known as rocket roti or roti helicopter since it is usually served wrapped around a sizable cone.
Easy Asian Desserts You Can Make at Home
Here's a short list of some easy Southeast Asian desserts you can make at home.
Black Sesame Cookies
Considered one of the easiest Asian sweet recipes, these buttery, nutty, and crunchy Black Sesame Cookies are fantastic. They go well with a cup of coffee or tea because of their savory-sweet flavor combination. The ideal Christmas cookies to bake and share!
Mango Sticky Rice
Thai desserts like mango sticky rice are delicious and surprisingly simple to prepare at home. You will only need coconut milk, mango, and sticky rice to get this done. These 10-minute desserts will leave all your guests impressed.
Japanese Butter Cookies
With only 5 ingredients, these butter cookies are perfect for any occasion. The dough can be used to create shapes with cookie cutters or rolled into a log and then cut into slices. Sugar, all-purpose flour, butter, baking powder, and eggs are what you will need to prepare these delicious Japanese cookies that you will surely love as much as we do.
Kulfi
A frozen dessert known as kulfi is commonly referred to as Indian ice cream. The milk is traditionally cooked slowly until it has at least halved in volume, creating a rich, sweet milk that resembles condensed milk. It usually has additions like cardamom, saffron, rose petals, or dried fruit.
Fried Bananas
These sweet and caramelized deep-fried bananas are delicious. As a dessert or snack, serve with chocolate sauce or maple syrup. Made with baking powder, flour, cornstarch, and egg white, these desserts are another healthy way to eat bananas.
Where to Find Southeast Asian Desserts in Richardson, TX
If you're looking for the best Asian desserts in Texas, you have come to the right place. We have a wide variety of ice cream that will blow your mind. From Mango, coconut, and green tea, to Thai tea, and Ube, our ice cream flavors mixes the softness of classic ice cream with the flavors of Southeast Asian cuisine.
In case you're looking for a bolder option, we recommend you our Fried Ice Cream Sandwich, we guarantee you won't regret it. Come and give it a try TODAY!
Since Char'd Southeast Asian Kitchen is a fusion cuisine restaurant, we offer a wide variety of dishes that will conquer your palate. Also, you can make your bowl, in which you can choose the ingredients you prefer to get a unique and delicious Asian bowl. Get your specialty bowl now!
When it comes to Southeast Asian desserts, Char'd offers delicious sweets and desserts for everyone in Richardson and nearby areas. You can find everything from soft and creamy ice cream to share along with your family and friends.
We are the most popular Southeast Asian dessert option in Texas. Not only because of our well-designed menu but because of the A-class customer service we provide in all our three locations in Texas. Visit us and check it out.