Top 6 Reasons to Choose Char'd For  Texas Catering
When it comes to making your event joyful and successful we understand the importance of a reliable catering service. When you hire a local Texas catering service you want them to provide good food, but excellent customer service. Whether you have a birthday party or wedding, you'll want them to meet all your catering needs.
Are you looking for a catering service provider that serves something unique, healthy, and delectable? How's about Southeast Asia fusion bowls? Char'd Kitchen is ready to take its famous Southeast Asia fusion meals and deliver them in a top-notch catering service in Texas.
Char'd has a name for being the best Southeast Asian casual restaurant because of our healthy, delicious, and customizable meals. However, our catering services include more than just serving our famous food at your event.
That's why we have created this guide to uncover our Texas catering services in DFW. Let's explore the various cuisines and meals we can serve at your events in Texas.
Without further ado, let's start with some exciting facts about our catering services!
Catering Inquiry
Submit the form below to inquire about our Catering Services
How Does Char'd Provide the Best Catering Services in Texas?
Char'd Kitchen's catering services are as famous as their Asian fusion meals. What makes our services so special? From food to presentation, we excel in meeting your catering needs with our professional services.
Here's how we do it!
Food for every diet:
Today, everyone is looking to achieve their own fitness levels and that means they probably have different nutritional needs. At your next event, your guest will love that they can meet their unique dietary needs without compromising on taste. Since Char'd serves fusion bowls with healthy and customizable ingredients your guests can choose the ingredients that suit their preference.
For instance, suppose one of your guests has a gluten allergy. They generally have a limited variety of dishes available to them at gatherings. Char'd offers a complete range of gluten-free fusion meals that help your guests maintain their health while enjoying a delicious meal.>
Top-notch arrangements:
Besides the food, Char'd Kitchen's professionals also take care of proper arrangements. We properly arrange the utensils, napkins, and bins for convenient usage. Furthermore, our Catering Chief ensures food is set up and ready to serve at the desired time.
Our team has dedicated themselves to staying at the event until the food is ready for your guests. We are here to take care of all the arrangements.
Quick serving:
As the food is already prepared, Char'd catering service ensures quick and convenient serving. Even when time is limited like at corporate lunches, we quickly prepare and serve the food of your guest's choice. Thus, there is less standing in a line and waiting.
Each guest can select and order their desired bowl and we will prepare it for them. Even if they're looking to customize any meal, Char'd offers a complete variety of options to meet their nutritional needs.
Buffet Presentation:
In our Texas catering, we offer an easy-to-access and delicious buffet presentation of our foods. This means our professionals serve dishes in chafing trays that enable your guest to mix and match their own meals.
Each tray features different ingredients so that your guest can customize their meal easily. For instance, if your guest likes to pour some teriyaki sauce on the chicken, the buffet presentation makes it really convenient and accessible.
Grab A Bowl and Eat:
At a family event, everyone loves to sit with their loved ones and enjoy the desired meals. Your guests may look for group orders. That's why we have created the "Grab A Bowl and Eat" option to make it more convenient than ever before.
In this, your guests can get a customized bowl with desired base, protein, veggies, sauces, and toppings. Whether they're on a vegan or paleo diet, Char'd catering Dallas will be there with different ingredients to meet their needs.
Disposable Utensils:
Admit it, the worst part of catering is the clean up afterward. Char'd has solved that problem too. With our disposable utensils, there's no washing dishes or boxing up silverware.
Our sturdy and convenient disposable dishes and flatware means you spend more time enjoying your guests and less time in the kitchen.
For added convenience, we also include garbage bags in our Texas Catering to make it more convenient and hygienic for you.
Experience the Best Catering Services with Chard in Richardson, TX
Taste the various cuisines and meals by using our catering services in DFW & Texas. Serving fresh healthy food for all palates in minutes..
Special Event Catering? We Got You Covered!
When it comes to hosting a special event, you may have a question in mind, "where will I get the best catering services near me"? Don't worry! Char'd Kitchen has got your back with our special events catering services in Texas.
Have a look at the list of special events that are perfect for Char'd catering services.
Birthday Party:
A birthday is always special. From milestone birthdays and everything in between, Char'd Kitchen makes your event more special with our healthy and delicious Southeast Asian fusion meals. Besides bowls, we also offer exciting flavors of ice creams and beverages to elevate the excitement.
If you're looking to gather 20 guests or more, Char'd Kitchen's catering services are the best option for your event.
House-Warming Party:
Shifting to a new home is among the most beautiful feelings, and a house-warming party is a perfect way to express them. You can make it healthy and delicious with our famous fusion meals inspired by Southeast Asian cuisines
From spring rolls to specialty bowls, we bring all the favorite Asian fusion foods to our catering menu.
Weddings:
No wedding is too big or too small for Char'd. Our catering service offers a variety of delicious options for guests to enjoy and celebrate any couple's big day.
Whether you have the event at your home, outside, or in a special venue, we will bring our famous Southeast Asian meals wherever you want.
Corporate Event:
Corporate events are a place where everyone has their own taste and preferences, so you want to serve food that meets everyone's nutritional needs. That's why we serve specialty bowls with a customizable base, protein, veggies, toppings, and sauces.
Even if you want to include beverages or deserts, Char'd Kitchen is here to meet all the catering needs.
Graduation Party:
Hurray! Your student has graduated, and it's time to congratulate them. From parents, grandparents, friends and extended family, that's a lot of mouths to feed. Let Char'd take care of feeding everyone with our catering service.
Our Texas catering includes Southeast Asian fusion meals, utensils, napkins, and more.
Social Events:
If you have an event you can bet that Char'd catering service can handle it. It could be a festival, expo, retreat, or any other special community event that requires Fort Worth catering by professionals.
Char'd Kitchen is famous for its Texas catering with incredible fusion meals and special events catering arrangements.
Are you hosting a special event? Make it more special with Char'd Kitchen's mouthwatering Southeast Asian fusions. Regardless of the type of event, we offer highly professional catering services for every event in Texas.
Click on the button below to see what we have in our menu!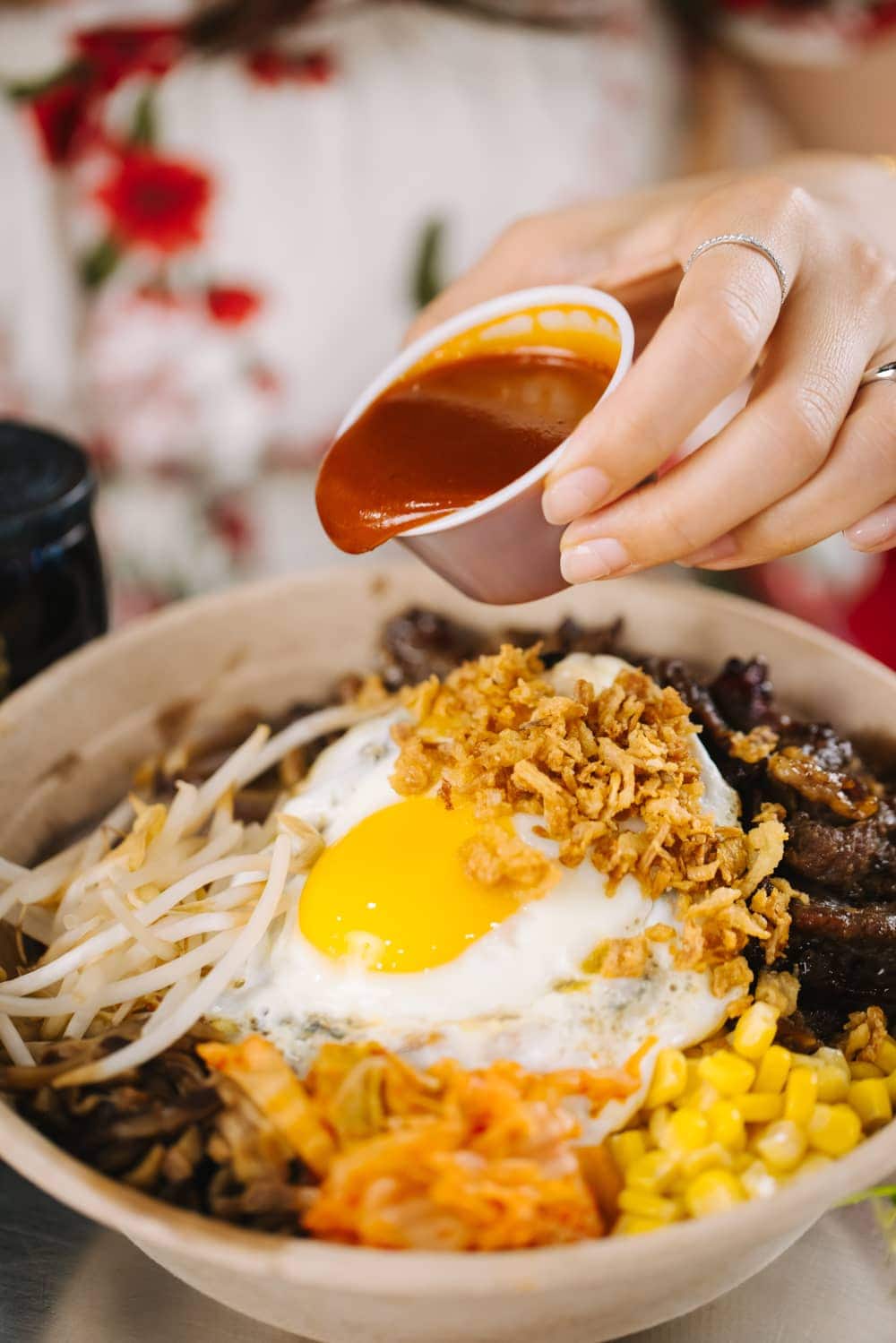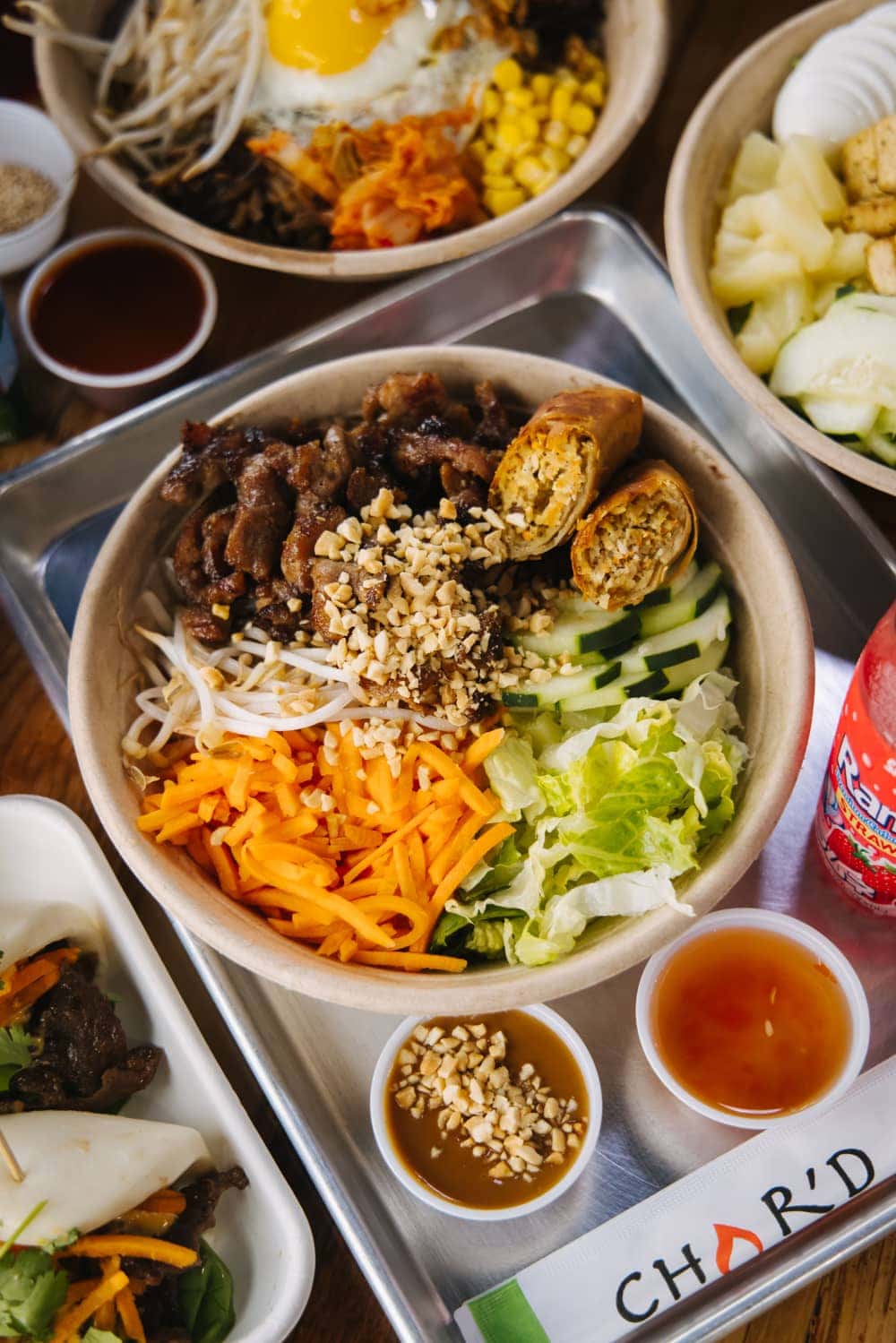 Southeast Asian Fusion Cuisines for Catering:
Southeast Asian cuisines are famous for mouthwatering and healthy dishes worldwide. Char'd Kitchen excels in making fusion dishes with various cuisines around Southeast Asia. Interestingly, you can also enjoy famous fusions at your event with Char'd catering service.
Let's see which cuisine meals we offer for catering.
Japanese Cuisine:
Southeast Asian cuisines includes popular Japanese food. Japanese cuisine generally has a brilliant presentation with clean and fresh ingredients. We incorporate signature Japanese dishes into our meals because of the unique flavor profile.
Japanese cuisines also have various health benefits and are getting famous for their gastronomical delights in Texas.
Thai cuisine
Thai cuisine is a blend of western and eastern cooking styles known for its large variety of flavors. Generally this includes distinct flavors such as: spicy, sweet, sour, and salty. This cuisine usually includes ingredients used in Thai foods such as palm sugar, fish, and more.
But Char'd Kitchen's professionals create exciting fusions by adding ingredients like vinegar, fresh chilies, and sauces.
Korean cuisine
Korean cuisine is known for various vegetables and seasonings. In most cases, Korean food uses rice as the base and then garnishes with vegetables, fish, and tofu. Char'd chefs season these ingredients with oil, soybean paste, chili pepper, and garlic to create fusion meals.
Vietnamese Cuisine:
Like Thai cuisine, Vietnamese cuisine also has an influence on western and eastern cooking styles. These dishes have similar flavors to Thai dishes, however, Vietnamese food has mild ingredients and less spices and sauces.
At Char'd, we create a fusion of Vietnamese and American cuisines to serve mouthwatering foods at your events.
Hawaiian cuisine
Last but not least, Hawaiian cuisine is a mix of various cultures and worldwide cooking styles. If we talk about the ingredients, most dishes are made of rice, vegetables, and a sweet touch such as pineapple.
We at Char'd create different fusions of dishes by adding ingredients from American and Japanese cuisines. Also, our Texas catering services include almost every fusion dish made with Hawaiian cuisine.
Teriyaki Meals Good for Sharing:
No doubt, we offer an extensive range of Southeast Asian fusion meals at your events. But our teriyaki meals have become the perfect choice when it comes to delicious food. Interestingly, teriyaki meals feature various ingredients and cuisines that make them quite convenient to share.
Here's what we include in our teriyaki meals!
Teriyaki chicken:
Teriyaki chicken is one of the most popular teriyaki meals of all time. It's a tender chicken garnished with teriyaki sauce. At Char'd, we make it really interesting and customizable with stir-fried veggies and sesame seeds. 
As the veggies are customizable, you can easily share your teriyaki chicken bowl with your loved ones during an event.
Teriyaki Pork:
Teriyaki chicken may be famous, but your guests would like to try some new teriyaki textures and tastes. Here teriyaki pork is a perfect teriyaki meal with sliced pork and steamed rice.
Like every other dish, your guest has access to customize base, proteins, toppings, and sauces while creating the bowl.  
All these teriyaki meals are great for sharing and are real crowd pleasers. But why wait for an event when you can enjoy our famous teriyaki fusion meals at home? Char'd is listed on Zing My Order that delivers any food from our kitchen at your doorsteps.
If you want to know more about our online delivery, click on the button below and place your first order now!
Beef Teriyaki:
Besides pork, beef teriyaki is also a perfect taste change over the traditional teriyaki chicken. It's a combination of tender beef steaks, sweet-savory teriyaki sauce, and steamed rice. Also, we allow your guests to customize it with toppings, veggies, and sauces of their choice.
If you want to share it with someone, you can also ask for additional ingredients of their choice for better sharing.
Teriyaki Shrimp:
Teriyaki shrimp is the best teriyaki meal if you're looking to share your bowl with your loved one. The reason is that it is cooked with tender teriyaki sauce, steamed rice, and broccoli. Everyone loves this salty-sweet mixture, and it is the best option for sharing.
Want to avoid ingredients with gluten? Don't worry! Char'd Kitchen garnish the teriyaki shrimp with our famous gluten-free sauce and other gluten-free options.
Catering Restaurant in Richardson, Texas and Nearby Cities:
There's no doubt that when it comes to Texas catering Char'd fits the bill. Besides Richardson, you can also contact us for Fort Worth catering and catering services in Mansfield. Just choose the city, fill in your details, and we will bring our famous Southeast Asian meals to your event.
Char'd Kitchen is the leading Southeast Asian restaurant in Texas known for its customizable meals and catering services. At Char'd, we use high-quality and fresh ingredients to create fusion meals inspired by various cuisines.
This means our meals are delicious as well as healthy to maintain your guests' wellness. Whether you want to change up the base or toppings, your guests can create their own bowl with ingredients of their choice.
Let's make your event more special with professional Texas catering! Visit the "Catering Services" page of our website for detailed information about our catering services. Also, you can drop us an email at info@chardkitchen.com and get a catering service for any location in Texas.
Frequently Asked Questions
Do you offer drinks?
Yes, we do. These options are available when you make your reservations.
What special diets do you cater to?
See below:
Vegan diet ( Lacto-vegetarian, ovo-vegetarian, pesco-vegetarian, strict vegan)
Gluten-friendly diet
Keto-friendly diet
Paleo diet
How long does the setup take?
On average, the Char'd Catering Chief takes about 20 minutes to set up the chafing dishes, food, plasticware, napkins, and utensils.
What is your cancellation policy?
See Below:
More than 5 days prior to the event:
The reservation fee is refundable.
Less than 5 days prior to the event:
Payment is non-refundable.
What additional fees are possible for an event?
You will have to pay for the delivery and setup fee based on each of the miles. There is going to have a delivery and setup fee based on each of the miles. If people pick-up and they setup then they don't have to pay that fee.
How do I pay for my catering order?
A credit card or debit card is accepted for upfront payment. Please note that there is a 25% reservation fee for your catering order to be accepted. The full payment must be paid a day before the event.
Is there a minimum order count?
No, we don't. However, if you want catering for 2-3 persons, we suggest that you try Ubereats as it is a cheaper option.
Do you offer full-service catering?
Our team doesn't offer full-service catering. But no worries, our Char'd Kitchen Catering Chief sets up the food, equipment, and utensils. Your guests will be able to enjoy the food without too much hassle.
Can I make changes to my order even after it has been finalized?
Yes, and it would be best to make these changes 5 days prior to the event. A call to our restaurant is much appreciated and we'll see if these changes are possible.
How far in advance do I need to place my order or book my event?
Catering events are on a first-come, first-served basis so we highly encourage that you book your catering order a week before the event.
Can I customize my order?
Our "Build Your Own Bowl" option is highly customizable. There are different options for your carbs, proteins, vegetables, sauces, and toppings.
What is it going to cost to hire Char'd Kitchen for my event?
The detailed pricing of our catering menu is available right here. We are also happy to provide a formal written price quote, after learning of the details of your planned event. Please allow up to three (3) business days for all price quotes. Contact us today to initiate the planning process for your next catered event.
What is required when looking into hiring Char'd Kitchen for an event?
Every event is unique within itself depending on what the host wants. The food can be picked up from the restaurant, have it delivered, or the Char'd Kitchen Catering Chief can come and set up the food area.
What locations does Char'd Kitchen deliver?
How can I book my event?
We can discuss details over the phone, in person at our restaurant – whichever is easiest for you! Contact us or Call Dom at (682) 552-1328.