Char'd Southeast Asian Kitchen
Char'd to Perfection
If you are a foodie or you genuinely enjoy good food, then you'll love Southeast Asian cuisine. Asian cuisine is rich in flavor and taste inspired by the traditional spices and culinary methods used during preparation.
Char'd Southeast Asian kitchen food is prepared with healthy and fresh ingredients so you can enjoy different Southeast Asian delicacies – all in one place.
We offer mouth-watering Asian cuisines from five cuisines: Thai, Korean, Vietnamese, Japanese, and Hawaiian.
If you live in the DFW Metroplex and you've ever searched for the best Southeast Asian Kitchen near me, Char'd Kitchen is the best place to try fusion meals, explore different food cultures, and have an amazing dining experience.
What to Look for in a Southeast Asian Kitchen in TX
Southeast Asian cuisine has become one of the most popular cuisines, not only in America but all over the world.
Traditional Asian cuisine is well known for the specific techniques used when preparing dishes. You're most likely to find dishes that contain one or more of the following ingredients:
Sweet Sour Sauce
Teriyaki
Cabbage
Chicken, Shrimp, Beef, or Pork
Steamed rice
Noodles
Dumplings
Won ton
And so much more!
In a traditional sense, Asian cuisine blends sweet, salty, sour, and umami to give us a delicious and unique taste that captures the essence of Asian foods.
Asian restaurants enjoy mixing and matching flavors and playing with the intensity of such flavors to create dishes that'll be delectable to your taste buds.
Asian cuisine is one of the most technical cuisines in the world. When it comes to the cooking method, they vary depending on the type of food prepared. However, probably the most common methods are steaming and grilling.
These two cooking methods work well for vegetable-based dishes and proteins. They preserve the flavor and highlight the natural color of the food. When you combine Asian meals with modern methods of cooking, you can create signature Asian fusion dishes.
Here are some of the most popular dishes you'll find in a common Southeast Asian Kitchen, like Char'd kitchen, according to the cuisine to which they are prepared:
Korean
Korean cuisine has grown in increasing popularity lately. Asian food lovers are especially drawn to it for its use of fresh and healthy ingredients. On most occasions, Korean meals are made with rice, tofu, vegetables, and fish.
In a Southeast Asian Kitchen, chefs use rich flavors like sesame oil, garlic, and chili pepper to bring out the intense taste of the dishes. Since most of their meals are prepared without oils there's typically less fat.
The most common Korean dishes are:
Kimchi
Bibimbap
Gimbap
Soy sauce crab
Thai
Another thing to look out for is Thai cuisine. Thai food is famous for its health benefits and richly flavored seafood dishes.
A lot of Thai cuisines incorporate fish sauce, vinegar, soy sauce, shrimp paste, chili, and tamarind to produce a perfect blend of the five essential flavors bitter, sweet, salty, sour, and spicy.
Check out these must-try Thai dishes:
Thai red curry chicken
Tom yom soup
Shrimp lettuce
Pad Thai
Thai chicken satay
Vietnamese
Vietnamese dishes are quite similar to Thai dishes as they incorporate five flavors with fish and seafood as their primary ingredient. The only difference is the texture and combination of ingredients used during meal preparation.
Vietnamese cuisine is healthy and unique, and is guaranteed to give your taste buds a thrill. Here is just a sampling of Vietnamese dishes you'll find at Char'd Southeast Asian Kitchen and other places that serve Vietnamese-inspired food:
Spring rolls
Banh Mi
Pho
Cha Ca
Com Tam
Japanese
Nothing beats the popularity of Japanese meals when it comes to enjoying well-prepared Asian meals. From Southeast Asia to America, Japanese cuisine is one of the most sought-after cuisines because of its rich and savory taste sensation.
Japanese cuisine includes fresh ingredients, such as pickled vegetables, steamed rice, miso, vinegar, soy, fish sauce, and kombu.
Here are the most popular Japanese foods you must try!
Sushi
Ramen
Teriyaki
Umami
Tempura
Miso soup
Hawaiian
Hawaiian dishes are influenced by a variety of cuisines from around the world. These influences have added a large variety of ingredients such as ketchup, pineapple, fried egg, macaroni, and beef to the cuisine.
When you dine at a Southeast Asian fusion restaurant like Char'd, you may discover popular Hawaiian meals like:
Saimin
Taro Ko Chip
Poke bowl
Strawberry Mochi
The Coconut
Char'd kitchen is a famous Southeast Asian kitchen and it is the perfect place to try a fusion of Thai, Korean, Japanese, Vietnamese, and Hawaiian dishes in Texas. With three distinct locations in Richardson, Mansfield, and Fort Worth, we guarantee an unforgettable dining experience in an upbeat, light environment.
Need delicious food for your event?

Hosting an event? Char'd Kitchen – Best Southeast Asian Restaurant brings delicious food to your home, office, or any location in Mansfield, Richardson, and Fort Worth, Tx.
We craft each item on our menu with top-quality ingredients, offering food that is pleasing to the eye, as well as the palate. We combined different food influences from different countries in Southeast Asia. You'll find us as the best Southeast Asian Restaurant in Texas.
Order online for your take-out meals in Mansfield, Richardson, Fort Worth, and surrounding areas.
Your guest deserves the best Asian catering in Texas.
Our goal is to provide delicious food for your guests and elevate their dining experience at your next event. We craft each item on our menu with top-quality ingredients that are pleasing to the eye, as well as the palate.
From family gatherings to large occasions, and private birthdays to company events, Char'd Southeast Asian Kitchen serves customized menus to fit every one of your guests' dietary preferences.
We are the best 'build your own bowl' restaurant and you'll find us bringing delicious food to your home, office, or any location in Richardson, Fort Worth, and Mansfield Texas.
Newest Teriyaki House in Texas!
Teriyaki sauce must just be the most perfect food! It goes with nearly everything – chicken, lamb, pork, beef, and more. In some parts of the world you'll find it in hamburger, squid, and meatballs. It's an incredible sauce that instantly amps up the flavor. . Some might even say it's addictive and will go to great lengths to find great teriyaki in Texas – but search no more!
Teriyaki sauce has been used for cooking around pacific Asia and has now made its way to the people of Texas. Whether you use teriyaki for a marinade or glaze, everyone loves the aroma. In fact, teriyaki must be great because this sauce had been around for decades and some restaurants have been serving it before World War II. Fast forward to the 21st century and this food craze for teriyaki is still here as diners still search out this taste in their favorite meals.
So here at Char'd Kitchen – The best Southeast Asian fusion restaurant will become your newest teriyaki house in Texas! Providing you with meats and proteins that pair well with that delicious teriyaki sauce. Imagine one place where you can find the great flavor of teriyaki sauce right here in your own town. We will be your "go-to" spot when it comes to great Asian-inspired teriyaki meals.
So, what are you still waiting for? Get your order now from the newest teriyaki house in Texas!
What Makes Southeast Asian food Unique?
Today, more and more people are seeking out Southeast Asian fusion restaurants, where the traditional flavors of Asia are mixed with typical American ingredients to create unique dishes.
In fact, the growth in demand for Asian fusion meals in Texas has skyrocketed this past decade. So, what makes Southeast Asian cuisine unique?
There are many reasons why Southeast Asian food is one of the favorite dining options for many Americans and the rest of the world.
Variety
Asian cuisine differs from one region to another. Whether it is Central, North, East, South, or West, Asian food has different characteristics and signature flavors.
Although these cuisines have common ingredients, for example, rice – the variety, style, and preparation of rice change with each region. For example, the rice in India is not the same type of rice consumed in other Southeast Asian countries.
Also, each region has different methods for preparing the meat or protein. For example, the Japanese love seafood, and Muslim Asian countries stay away from pork.
This opens up different types of cuisines for Asian food lovers and makes Southeast Asian fusion restaurants sought-after all over the world.
Ingredients
Southeast Asian countries are known for using fresh and locally sourced ingredients for their meal preparation.
They combine ingredients that make up five distinct flavors such as sweet, salty, sour, savory, and bitter. The perfect proportion of spices used makes the dish appetizing.
In most American fusion restaurants, you may experience traditional Asian herbs and spices paired with locally sourced vegetables that aren't easily accessible in many Asian regions.
This combination makes their cuisine interesting and unique.
Fresh and healthy
Many of the ingredients used in cooking Asian fusion meals are prepared in a way that is considered "healthier."
Traditional Asian ingredients and cooking styles generally promote healthy eating. This is one of the reasons why people with dietary preferences like low-carb, paleo-friendly, and veggie-based lean towards Southeast Asian cuisines.
If you think about the healthy fat sources like avocado and fish along with the rich amount of vegetables used in most meals, you can argue that Asian cuisine is one of the healthiest options in the world today.
Easily available
Today, you can find an Asian restaurant on almost every corner in a prominent city. This is directly related to the success of Asian cuisine today.
When people are looking for international cuisine for lunch or dinner, they mostly consider Asian meals due to their easy accessibility, consistency, creativity, and familiarity.
Wide range of cuisines
From traditional to fusion meals, Southeast Asian cuisine includes a wide variety of dishes. The combination of ingredients is used to prepare different dishes including spring rolls, Banh Mi, chicken teriyaki, and lots more.
Since there are many ingredients, you can customize your meals to fit your nutritional needs. Char'd Kitchen allows you to create your own meals by selecting your base, protein, toppings, vegetables, and sauce.
Char'd offers gluten-free, vegan, and low-carb options so you have multiple choices of ingredients to customize your meal.
Char'd Southeast Asian Kitchen takes the dining experience a step further. With our 'build your bowl' concept, we fuel customers' creativity by giving them the option to mix and match flavors.
You can choose from a wide variety of ingredients (base, protein, veggies, toppings, and sauce) to make your specialty bowl.
You're welcome to try our teriyaki chicken, spring roll, or pork noodle bowls. We also have other Asian comfort dishes you may be familiar with.
Giving people of Texas the freedom to mix and match different Asian flavors.
We are here to fuel people's creativity with countless paleo, low carb, gluten-free and vegan-friendly fusion dishes.
Try Southeast Asian Fusion Restaurant in Cityline in Mansfield, Texas
Char'd Southeast Asian restaurant is known to serve healthy food fast. Whether you want to dine in, take-out, or schedule our catering service for your next event, you can count on us to use the freshest, healthiest ingredients.
Char'd kitchen sets your palate to a gastronomic experience with a fusion of different flavors from Thai, Hawaiian, Japanese, Vietnamese, and Korean fusion meals.
If you're looking for a Southeast Asian restaurant, Char'd is the perfect place for you.
Here's what makes Char'd stand out.
Customization
No matter your health, nutrition, or fitness goals, Char'd kitchen offers a customizable bowl in which you can make your meals to your taste.
We divide your bowl into five parts for easy customization:
First, choose the desired base from options like rice, salad, or noodles.
Then, fill it with the desired protein like beef, chicken, tofu, or pork.
Next, select a combination of vegetables and garnish them with mouth-watering toppings.
Once you have finished creating your bowl, you can finish it with a large collection of Southeast Asian sauces including firecracker, teriyaki, sesame, and lots more.
Fusion meals
Our fusion meals are unique when compared to other fusion restaurants. We are famous for preparing southeast Asian fusion meals combining authentic Asian recipes with American ingredients.
At Char'd Southeast Asian restaurant, there is a detailed menu of Asian fusion food including Japanese, Thai, Korean, Vietnamese, and Hawaiian. You can enjoy healthy beverages, exciting ice cream, or your favorite local beer along with your meals.
Fresh & healthy ingredients
At our Southeast Asian restaurant, we only use fresh and locally sourced ingredients for our meals. From our vegetables to spices, Char'd make use of the highest quality ingredients.
We also avoid adding processed sugar to add sweetness to our meals. Our sweetness comes naturally from sugar cane, honey, and palm sugar. That's why we are famous as the best build-your-own-bowl restaurant in Texas.
Fast online delivery
We deliver fresh, savory, and mouth-watering dishes quickly to satisfy your cravings. Char'd
Kitchen is available at Zing My Order and you're just a few clicks away to receive authentic dishes from us.
All our menu items are flexible and you can "Build Your Own Bowl" to your desire.
THAI RED CURRY CHICKEN
Juicy grilled chicken breast on top of white rice or vermicelli noodles  with crisp shredded romaine, spinach leaves, pineapples, grilled corn, sprinkled with roasted peanuts and drizzled with our creamy thai red curry sauce.
VIETNAMESE GRILLED PORK
(Thit Nuong) Savory charred pork seasoned in traditional Vietnamese spices on top of white rice or vermicelli noodles accompanied by fresh cucumbers, romaine lettuce, bean sprouts, mint, pickled carrots and daikon. Topped with roasted peanuts and crispy egg roll with your choice of sweet and salty fish sauce or creamy peanut sauce.
BIBIMBAP
Literally means mixed rice. Slow braised Korean inspired sliced beef with white rice and sauteed sweet onions, homemade kimchi, soy shiitake and sweet roasted corn. Roasted sesame seeds, crispy shallots, and spicy Gochujang sauce top the bowl off.
POKE BOWL
A Hawaiian fish salad. Fresh sushi grade salmon and tuna mixed with pineapples, roasted corn, cucumber, edamame seeds, and firecracker sauce on top of sushi white rice. Also comes with a splash of spinach, sweet onions, creamy crab salad, seaweed salad, a dash of furikake seasoning, shredded nori and toasted sesame seeds. We finish off the bowl with a glaze of unagi sauce.
NOM FRIES
Fries with our house seasoning topped with your choice of protein, grilled onions, pineapple, fire cracker sauce, gochujang sauce, fried egg, and sprinkled with cilantro.
STEAMED BUNS
Mantou, a cloud like pillow of steamed bread dough, ready to be filled with firecracker sauce, spinach and your choice of protein.
Char'd Southeast Asian Kitchen
There are many Asian-inspired dishes you must try at least once. Here are three delicious Asian meals you can find at Char'd kitchen in Texas.
Chicken teriyaki bowl
You can't talk about Southeast Asian meals without name-dropping Teriyaki. Everyone loves our signature meal for its versatility and healthy ingredients.
At Char'd, our chicken teriyaki bowl is made with chicken tossed in our special gluten-free teriyaki sauce and mixed with veggies (broccoli, cabbage, and carrot) sprinkled with sesame seeds.
We offer different variations for the base – you can have white rice or cauliflower rice. If you have any special requests, just ask and we'll do our best to customize it to your taste.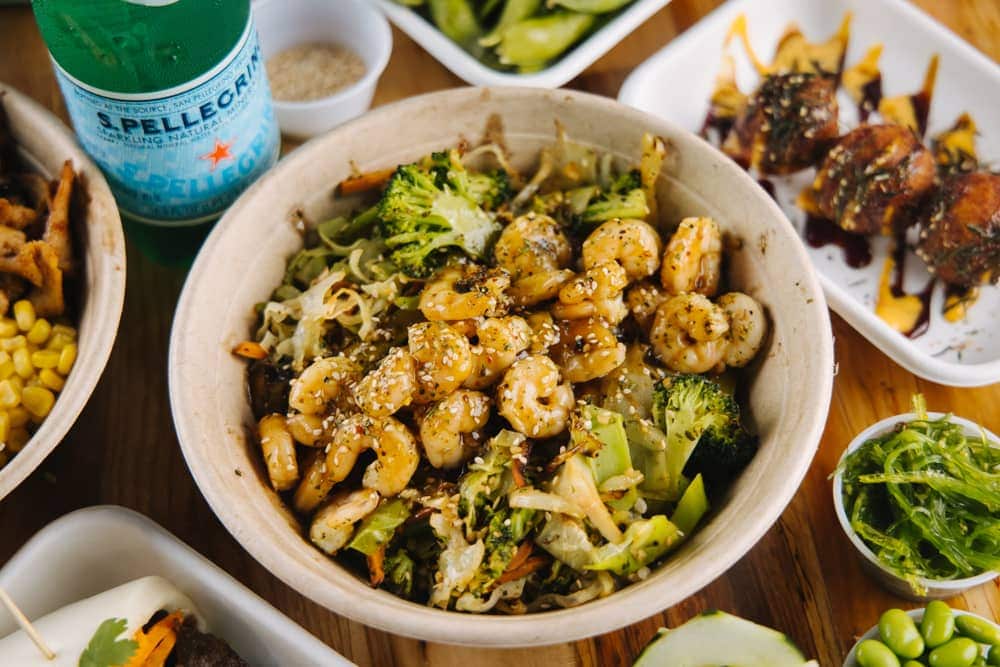 Vietnamese grilled pork
Our Vietnamese grilled pork is savory charred pork seasoned with traditional Vietnamese spices. We place this delicious meat on top of white rice or vermicelli noodles.
Next, we add fresh cucumbers, romaine lettuce, bean sprouts, mint, pickled carrots, and daikon with roasted peanuts. We pair this with a crispy egg roll and your choice of sweet, salty peanut sauce or creamy peanut sauce.
This dish is tasty, crunchy, and colorful. You're in for a treat at Char'd Southeast Asian restaurant.
Bibimbap
This famous dish takes rice bowls to an exceptional level.
Bibimbap, also known as mixed rice, is made with slow-braised Korean-inspired beef, white rice, and sauteed onions. We add homemade kimchi, soy shiitake, sweet roasted corn, roasted sesame seeds, crispy shallot, and spicy gochujang sauce (the star of this meal).
We give you several options, so you can choose from pork, beef, chicken, or tofu, and it'll taste just as amazing.
We have always been inspired by different foods, flavors, and influences from different cultures. Growing up in an 8 person household, budgeting was always an issue.
My parents were the first generation in our family to reside in the United States and started their lives with literally nothing, but a few sets of clothes and $30. Working 60-80 hours a week to make ends meet, my parents left the cooking to us.
We love to stray away from the traditional recipes and try out different flavors and ingredients, basically adding our own flair to the dishes. Our mom would scold us for straying away from the original recipe that she passed down to us, but she liked the new flavors.
As we grew up, the internet came along and introduced us to a wide variety of different cultures' food. Our love for Southeast Asian cuisine evolved. We don't like to stick with one cultures' food. We wanted the freedom to mix different cultures with one another. Some days we want to eat kimchi with Vietnamese grilled pork.
Thus, Char'd: Southeast Asian Fusion Restaurant was born, giving people the freedom to mix and match different Asian flavors. We are here to fuel people's creativity. We also provide Asian food catering in Texas specifically at Fortworth, Mansfield and Richardson areas.
Eat exactly what you want. There are so many possible ingredient combinations as you choose your own base, proteins, vegetables and sauces.
8901 Tehama Ridge Parkway
Suite 137
Fort Worth, TX 76177
1251 State Street
Suite 800
Richardson, TX 75082
1571 E Debbie Lane
Suite 121
Mansfield, TX 76063
Drop Us a Line
Don't be shy. Let us know if you have any questions!