Thai Fusion Cuisine in Richardson, TX
Thai cuisine has become one of the world's favorites. From colorful dishes, strong flavors, and distinct textures Thai cuisine is a whole new world of flavors to discover.
In addition to its unique flavors, Thai cuisine and Thai cooking have opened up a whole new world Asian inspired restaurants and recipes.
If you're looking for a Thai restaurant that offers flavors from all around southeast Saian, then you'll find what you're looking for at Char'd Kitchen, Richardson TX.
Here you'll find food inspired by Thai cuisine right here in the heart of Texas.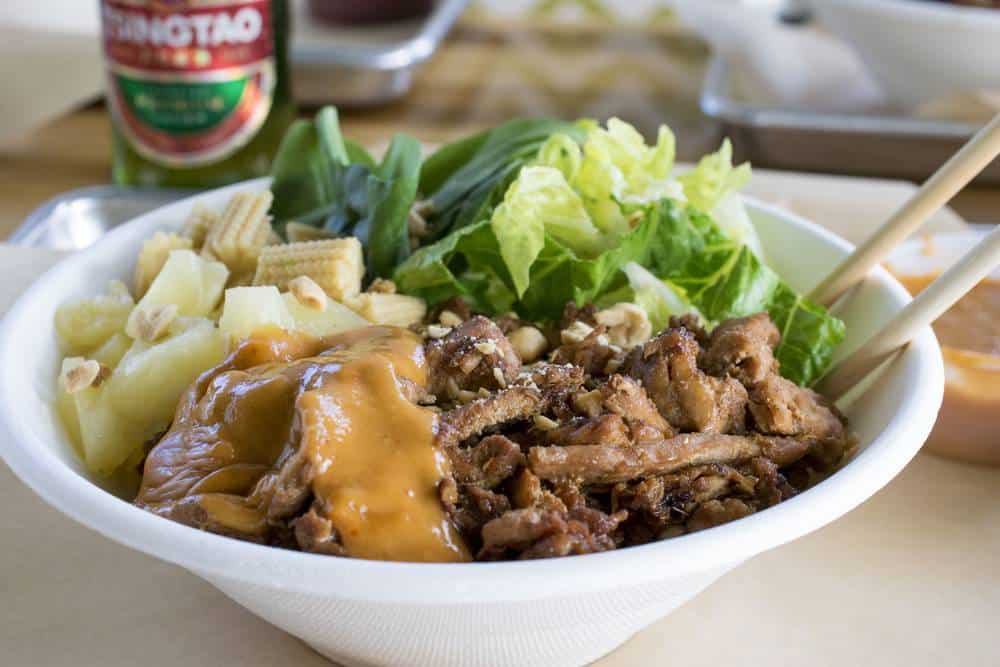 Thai Cuisine: How Thai Food is Served
As we take the Southeast Asian culinary journey, let's explore more about Thai cuisine and what makes it stand out.
Thai food is one of the world's most popular Asian styles of cooking because it can be highly variant depending on the region within Thailand.
However, no matter which region you visit in Thailand, Thai cuisine stands out among all the other Asian cuisines as it boasts deep flavors, robust spices, and traditional cooking methods.
In Thai culture, they have their own way of cooking and serving food. When tourists visit a restaurant in Thailand, they are often surprised by the way the dishes are served.
As Thailand is an Asian country, it's common for people to assume that Thai food is eaten with chopsticks but actually a lot of Thai use a spoon and fork in addition to chopsticks.
With a long history of foreign influence, Thai culture adopted a variety of dishes and thus the use of western utensils. Most tourists find this reassuring as they may not be proficient at wielding chopsticks.
When eating soup-like dishes, Thai food is served with chopsticks and a Chinese soup spoon. This allows one to use chopsticks to eat the meat in the soup and the Chinese spoon for the broth.
If you are in a traditional Thai restaurant and chopsticks are not offered, it is likely because they aren't necessary. Chopsticks are reserved for eating Chinese-style food from bowls.
On the other hand, for some traditional Thai cuisine, food is eaten with the fingers and it is still that way in certain Thailand regions. It wasn't until the early 20th century when Thai began to use forks and spoons to eat their food.
No matter if you are in Thailand or if you're visiting a Thai restaurant, you may find that Thai food is served in a common serving platter which is known as "family style".
In this case, it is customary when serving yourself to take no more than one spoonful onto your plate at a time. As a rule, if you serve all portions at once it will look "greedy" for Thai culture.
The balance between flavors is another distinct factor when serving Thai cuisine. It is essential for the dishes to have a perfect combination of all flavors.
In a traditional Thai restaurant you'll find curry, steamed or fried fish, a stir-fried vegetable dish, and a soup. All of these foods are excellent examples of balancing between cool and hot, sour and sweet, salty and plain.
Regional Thai Dish Variations
In Thailand and Thai cuisine, you'll discover that there are many variations depending on the zone or region you are visiting. Depending on that particular region's history and available resources, you'll find the variety of flavors may vary greatly.
Central Thai Cuisine
Central Thai cuisine is more well-known for its sweet and savory flavors. This includes a wide range of ingredients where those flavors are dominant such as freshwater fish, pork, coconut milk, and palm sugar. These ingredients can be readily found in the central Thai plains.
The Chinese also had a great deal of influence on Central Thai cuisine, therefore it's not uncommon to find dishes that have a variety of noodle and wok-fried variations.
Southern Thai Cuisine
Shrimp paste, chilies, garlic, and lime are some of the most used ingredients when it comes to southern Thai cuisine. This region is known for its local spices and is evidenced by the local's cooking style.
Here, spicy food is loved by almost everyone – young and old. In the south of Thailand, food tends to be a bit more on the salty side, as seafood ingredients have a high salt content.
Royal Thai Cuisine
Society has also influenced Thai gastronomy, like the case of the Bangkok-based royal court, which has been producing sophisticated and refined takes on central Thai dishes for nearly 300 years. These dishes were available only for the "royalty", but today these dishes can be tried by locals and tourists.
Looking For Thai Food in Richardson?
You might think you have to go to a traditional Thai restaurant to experience the delicious Thai flavors. Fortunately for you, Char'd Asian Kitchen is right here in Richardson, Texas.
If this is your first time trying Thai-inspired cuisine, we have a few tips for you:
Do Your Research
Are you looking for an authentic Thai experience or are you more comfortable with a fusion of Asian flavors?
Since a lot of Asian cooking offered in the states has western influences, most people are not all that familiar with authentic Chinese, Korean, Thai, or Japanese dishes.
So why not dine someplace where you can pick and choose the flavors you know and love?
At Char'd Southeast Asian Kitchen we have taken the best of Asian influences and fused them together with other flavors from around the world to create a unique experience that appeals to all – whether you're a novice or expert at Asian foods.
You don't have to go to an authentic style Thai restaurant to experience the flavors and style of Thai cooking.
Besides, why just limit yourself to one type of cooking when it is all so delicious?
Be Open to New Experiences
Don't be afraid to try new flavors. Thai cooking is super flavorful and versatile.
For instance, our Chicken Curry Bowl features a creamy and delicious Thai red curry sauce.
This colorful red sauce packs a bit of a punch (but not too much) as it adds a level of flavor to our juicy grilled chicken breast.
You can start with rice (even cauliflower rice) or noodles and then we add shredded romaine, spinach, pineapples, and roasted peanuts.
Not only is our Chicken Curry Bowl quintessentially Thai, but it also pulls in the sweetness of Central Thai with the spiciness of Southern Thai. The best of both worlds!
Other Thai Menu Items
In addition to our Thai Red Chicken Curry Bowl, you'll find other Thai influences on our menu such as Thai Red Chili sauce. This is perfect for a little kick with our grilled pork or tofu.
Looking for a great peanut sauce, we have that too! Typically associated with Thai cooking, however, this sauce originates from Indonesia. That doesn't keep it from being a great topping for beef or chicken.
And for dessert, we have our Coconut Ice Cream. A rich and creamy treat that embodies the richness of the Thai landscape that produces an abundance of coconut groves.
When you visit Char'd Southeast Kitchen in Richardson, TX you'll experience Asian fusion cuisine that's not just unique but delicious! Check out our menu here
Thai Flavors: Thai Recipes, Ingredients, and Preparations.
Thai cuisine is the result of the people who emigrated from the southern Chinese provinces into modern-day Thailand many centuries ago.
Lately, other influences have infiltrated Thai food, like Buddhists who brought that Indian touch, or Muslims with their spicy condiments that influenced the south of Thailand.
It's worth mentioning that Thai food was heavily influenced by European cuisine after contact with Portuguese missionaries and Dutch traders.
All these different influences made Thai cuisine a unique mix of five tastes: sweet, sour, bitter, salty, and spicy.
In Thai cuisine, it's hard to find a dish lacking sweetness, even slightly. You'll find that a sweet taste is almost always present, as it comes predominantly from palm sugar, coconut sugar, and honey.
Unlike western cuisine, where the sweetness comes from white sugar, Thai cuisine uses more natural and less processed forms to add sweetness to their dishes.
Besides sugar and honey, stevia leaf is used in some Thai herbal-type drinks to add sweetness.
Bitter
Okra and bitter melon are the most common ingredients used in Thai cuisine to add a soft bitter taste to dishes.
In some rural areas, Thais also eat a fair amount of animal offal such as the bile ducts of beef as well as crickets, worms, and beetles to get the bitter taste.
This is the most predominant taste found in Thai cuisine. It is usually added through fish sauce which also has an umami flavor that is less strong than some other seasonings.
Salt can also be found in ingredients like oyster and mushroom sauce, pork and chicken seasoning powders, and many others.
Salt not only adds that savory salty taste, but it does well to counterbalance bitterness or over sweetness. This balance of flavors is what Thai cuisine knows how to do best.
Maybe one of the most important flavors in Thai cuisine, sour taste along with sweetness, and when well balanced you'll discover a great taste combination that is typical of Thai food.
Lime juice is probably the most common ingredient used to add sourness, as is white vinegar, followed by Kaffir lime leaves and lemongrass.
The spiciness is a must in every Thai dish, this can be found in chili and the pastes derived from chili.
But there are other ingredients that can also provide that spicy touch, such as green peppercorns cooked on the stems, black pepper, garlic, and more particularly ginger.
Thai dishes have such mass appeal because of their perfect balance between sweet, bitter, sour, and salty flavors. From basic broths and salads to more complex dishes like curry, all these distinct flavors will make your mouth water.
Due to the use of a wide variety of vegetables and herbs, Thai cuisine is one of the healthiest cuisines in the world ensuring that maximum nutrition is preserved while cooking.
Not only are Thai dishes healthy but some of the ingredients used in Thai cuisine are believed to have medicinal values that can help ailments like cholesterol and gastrointestinal problems, and more.
The cooking method the Thai use also helps to retain nutrients, like steamed or stir-fried, which is the main cooking method.
If you are looking for different dishes in one single restaurant, Thai food is for you. You can find different salads with a distinct dressing for each one. The soups are also healthy as they are a blend of savory and sweet ingredients.
Some of the most popular dishes can be cooked in a very short time. In certain dishes, you can prepare the marinade in advance and keep it in the refrigerator.
In most of the dishes, market-made sauces like chili, shrimp, or fish sauce are used. All you need is fresh vegetables and the sauce to your liking.
Top Five Healthy Thai Food To Order From Char'd Southeast Asian Kitchen
Char'd Kitchen, located in Richardson, TX is an Asian fusion restaurant focused on cuisine where the flavors of southeast Asia mix to give diners a unique and outstanding dining experience.
We have a wide variety of Thai-inspired dishes and flavors you can choose from and allow you to create your own mixture of flavors that suit your tastebuds.
Thai Red Curry Chicken
This dish is made with juicy grilled chicken breast on top of white rice or vermicelli noodles with crisp shredded romaine, spinach leaves, pineapples, sprinkled with roasted peanuts, and drizzled with our creamy Thai red curry sauce. All these flavors will be an explosion in your mouth.
Tofu Salad
Thai cuisine is also popular because of their creative salads, like this Tofu Salad which features tofu infused with lemongrass and red peppers on a bed of greens, bean sprouts, cucumbers, pineapple, pickled carrots and daikon, purple onions, boiled egg, sprinkled with wonton strips. The dressing of this salad will take it to another level of flavor.
Nom Fries
There's no doubt of the level of Western influence that can be found in this dish. French fries are perfectly prepared with our house seasoning and then topped with your choice of protein, grilled onions, pineapple, firecracker sauce, gochujang sauce, fried egg, and sprinkled with cilantro.
Careful, you'll get these to share with the table, but soon discover you want the whole plate for yourself!
Char'd Stir Fry
This dish is perfect for vegetarians and vegans, it is made with stir-fried broccoli, cabbage, carrots, corn, and onions with your choice of protein over rice with a dash of sesame seeds. Just mix the bowl and eat!
Char'd Special Bowl
A Char'd favorite, which is similar to "fried rice", this bowl comes with your choice of rice and protein, topped with stir-fry pea & carrots, onions, corn, and a scrambled egg. Drizzled with gluten-free soy sauce. Just mix the bowl and eat!
Ready to make your own bowl with Thai-inspired flavors?
Head to Char'd Kitchen Richardson, TX, or just visit our menu online and check out everything Char'd has to offer.
You can dine in our bright and colorful dining room, on the patio, or at home. Either way, you're sure to have a unique dining experience that will transport you to the tastes of Southeast Asia!
Thai food is loved by a lot of people around the world and Texas is no exception. With the mix of all the flavors in one single dish, Thai food has become one of the most requested cuisines in big cities where the foodie trend has influenced people's taste related to southeast Asian fusion cuisine.
Texas is known not only for its extensive territory but for its gastronomic culture, being an open-minded place when it comes to foreign cuisine and new food proposals, like the case of Char'd Kitchen.
Our Asian fusion cuisine restaurant serves the best of Southeast Asian cuisines, offering new and creative dishes that mix the best of authentic and traditional Thai dishes with fresh and local ingredients in order for our diners to have a quality dining experience.