FEATURED SOUTHEAST ASIAN CUISINES
Simple Bites
EGGROLLS (2)
Seasoned pork with glass noodles and carrots all wrapped up in a crispy spring roll, fried to perfection
EDAMAME
BAO BUNS (2)
SPRING ROLLS (2)
A traditional Vietnamese dish that is light and healthy. It consists of your choice of protein, vermicelli noodles, shredded romaine lettuce, bean sprouts, cucumber, mint, and cilantro with your choice of sweet and salty fish sauce or creamy peanut sauce.
BANH MI
Pork – Chicken – Tofu – Beef
Vietnamese bread filled with your choice of Chicken, Pork, Tofu, or Beef, along with cucumbers, pickled carrots & daikon, jalapenos, cilantro, and our amazing Firecracker sauce.
NOM FRIES
Fries with our house seasoning topped with your choice of protein, grilled onions, pineapple, fire cracker sauce, gochujang sauce, fried egg, and sprinkled with cilantro.
Specialty Bowls
VIETNAMESE GRILLED PORK
(Thit Nuong) Savory charred pork seasoned in traditional Vietnamese spices on top of white rice or vermicelli noodles accompanied by fresh cucumbers, romaine lettuce, bean sprouts, mint, pickled carrots and daikon. Topped with roasted peanuts and crispy egg roll with your choice of sweet and salty fish sauce or creamy peanut sauce.
THAI RED CURRY CHICKEN
Juicy grilled chicken breast on top of white rice or vermicelli noodles  with crisp shredded romaine, spinach leaves, pineapples, sprinkled with roasted peanuts and drizzled with our creamy thai red curry sauce.
BIBIMBAP
Literally means mixed rice. Korean inspired sliced beef with white rice and sauteed sweet onions, homemade kimchi, soy shiitake mushroom, bean sprouts and sweet roasted corn. Roasted sesame seeds, crispy shallots, and spicy Gochujang sauce top the bowl off.
POKE BOWL
A Hawaiian fish salad. Fresh sushi grade salmon and tuna mixed with pineapples, roasted corn, cucumber, edamame seeds, and firecracker sauce on top of sushi white rice. Also comes with a splash of spinach, sweet onions, creamy crab salad, seaweed salad, a dash of furikake seasoning, shredded nori and toasted sesame seeds. We finish off the bowl with a glaze of unagi sauce.
Chicken teriyaki bowl
Chicken tossed in our signature teriyaki sauce with mixed veggies (brocolli, cabbage & carrots) with a sprinkle of sesame seeds, on top of a bed of rice.
TANTALI TOFU SALAD
Tofu infused with lemongrass and red peppers on a bed of greens, bean sprouts, cucumbers, pineapple, pickled carrots and daikon, purple onions, boiled egg, sprinkled with wonton strips.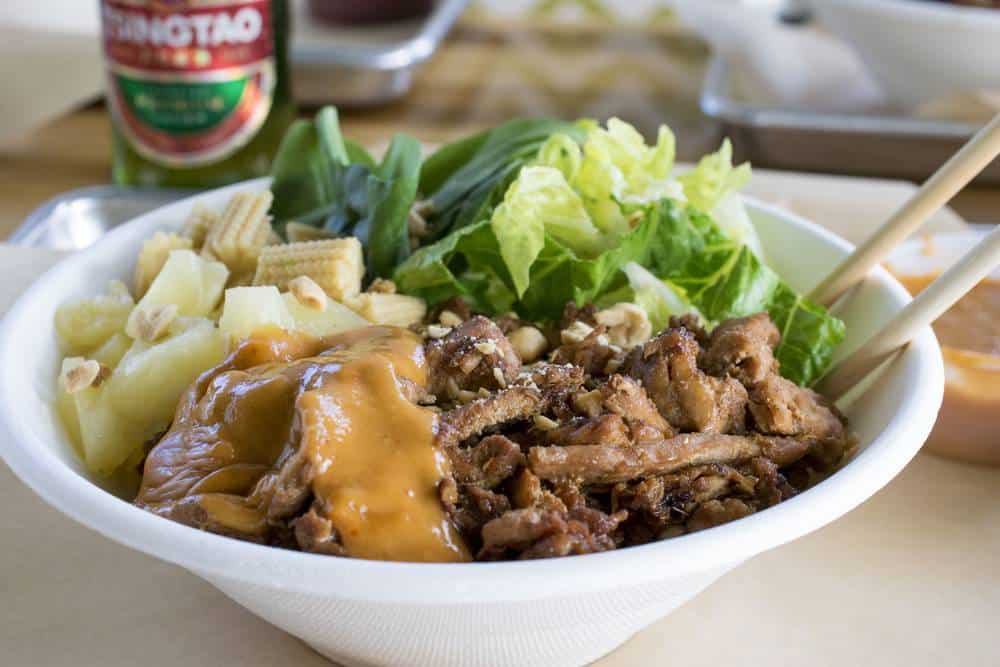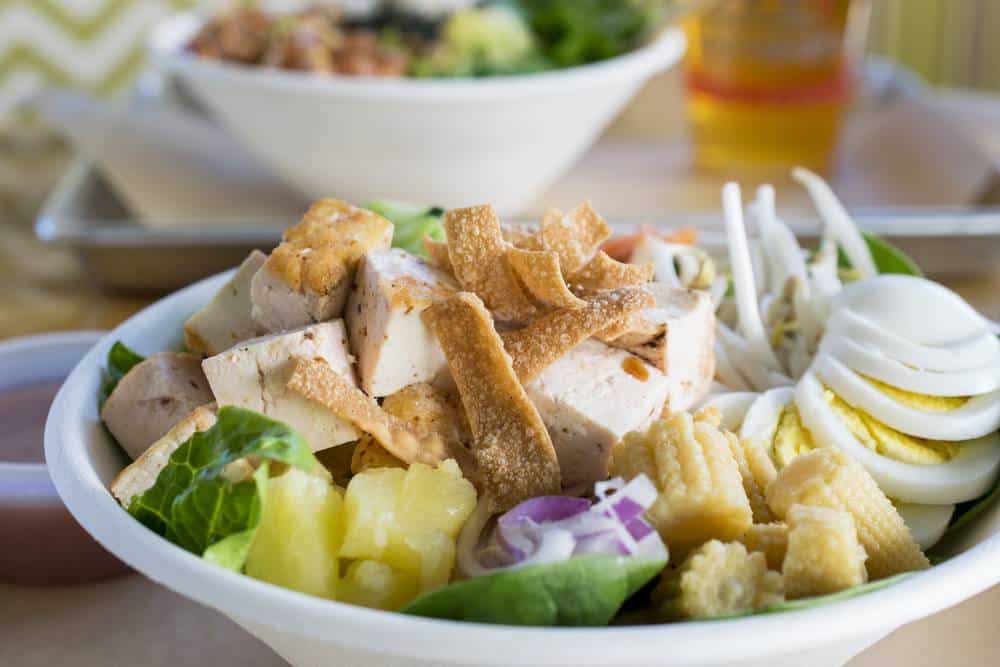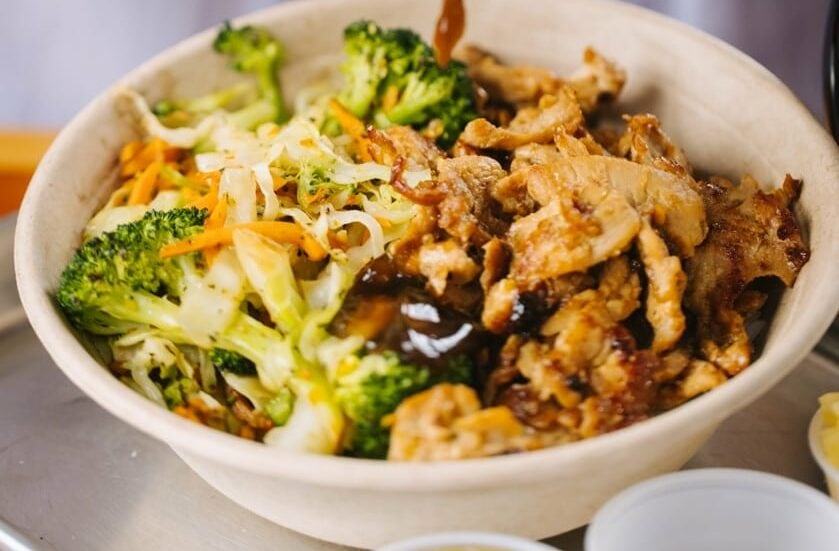 Need Delicious Food for Your Event?
A hungry crowd deserves good food! Your guests deserve the best Asian catering in Texas.
Our goal is for your guests to enjoy delicious food and elevate their food experience. We've incorporated different elements from Southeast Asian cooking and use fresh top-quality ingredients.
Our customized menu will surely fit any occasion that you host. Learn more about our catering here or better yet, book us for your upcoming event.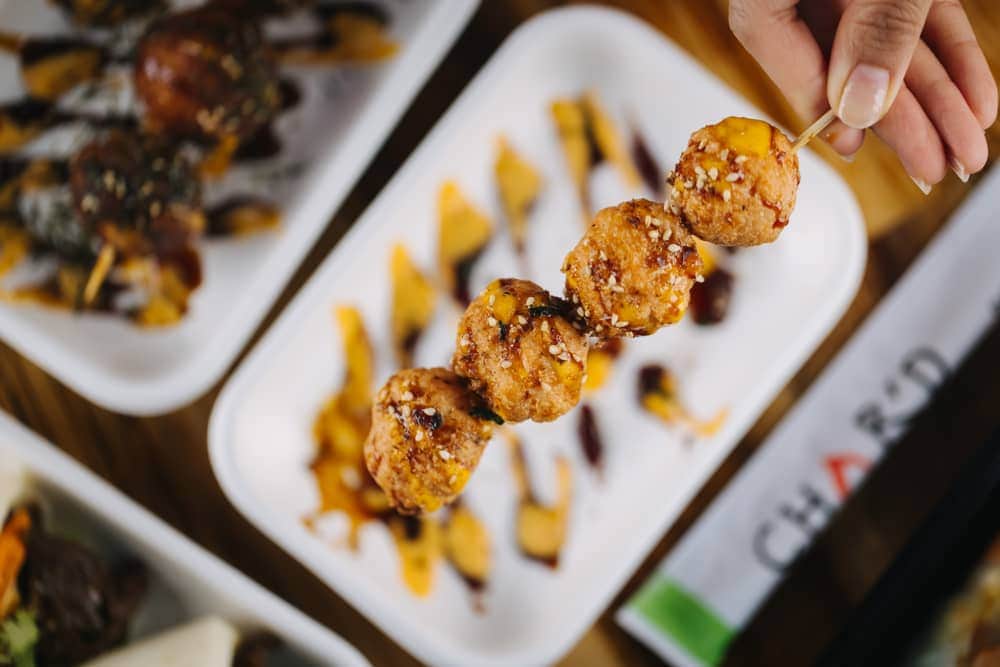 Menus for Family Gatherings and Big Events
From family gatherings, to small and large corporate events, we have menus for every occasion and cater to many of your dietary preferences.
Chicken Teriyaki
Chicken Teriyaki has been a staple around the Asia-Pacific region for decades. Some of earliest recorded restaurants to use teriyaki go all the way back to before World War II. This iconic chicken with teriyaki sauce was all an instant hit and soon everyone was looking for the perfect chicken teriyaki dish. The savory sensation of the teriyaki sauce: its sweetness and saltiness was a perfect combination to be used as a marinade and glaze on fresh chicken. We can guarantee you that your craving will be satisfied, as it's especially tasty when it's served with rice.
The Teriyaki Chicken bowl will be your go-to meal whenever you're craving Asian-inspired food. Our casual dining experience at Char'd is the perfect place to satisfy your craving. We have perfected the art of the Teriyaki Chicken bowl and we think your stomach will agree.
You can also experience our delicious teriyaki sauce with different proteins like shrimp, beef, pork, and tofu. There's no need to go anywhere else when you've got Char'd serving up some of the best teriyaki dishes in town.
So what are you waiting for?
Desserts
HOMEMADE ICE CREAM
Choose from four delicious flavors: Ube (the popular Filipino purple sweet yam), Green Tea, Vanilla, and Mango.
Sodas
STUBBORN SODA
Made from fair trade certified cane sugar, stevia leaves, and natural flavors with zero high fructose corn syrup. We carry Pineapple Cream, Classic Root Beer, Caleb Kola, and Agave Vanilla Cream.
THAI TEA
PEACH GINGER TEA
BOTTLED WATER
Beers
ASSORTED ASIAN & LOCAL BEERS
Craft locally brewed beers in cans and bottles from Bishop Cider Co., Community Beer Co., and Deep Ellum Brewing Co.