Restaurant in Richardson Texas
Here in the great state of Texas, we are known for bright stars and our top-notch gastronomy. Here residents and visitors alike can find a wide range of options to grab a quick bite or enjoy a leisurely dinner with family and friends.
The city of Richardson, Texas has a lot to offer to its visitors. From places of interest like museums to parks with beautiful landscapes, this city has also become popular for its large number of high-quality restaurants. Richardson, Texas is quickly becoming one of the number one gastronomic destinations in the USA.
However, finding a good restaurant in Richardson Texas that can fit everyone's culinary taste, can be a challenge. Not to mention finding a place with a nice environment, excellent and friendly customer service, and high quality food.
But the search is over as Char'd Southeast Asian Kitchen fits the bill. As Char'd continues to grow in popularity we know that we are one of your best dining options in town.
Char'd Southeast Asian Kitchen is an Asian fusion cuisine restaurant in Richardson, where we mix several Asian cuisine influences to create unique and tasty dishes for all who reside or visit the Richardson area.
We are best known for our Teriyaki specialties and our variety in bowls, along with our dedication to customer service, this makes us one of the best Asian food dining options as you consider any restaurant in Richardson Texas.
Experience Southeast Asian Fusion Meals in Richardson, TX
We are here to fuel people's creativity with countless paleo, low carb, gluten-free and vegan-friendly fusion dishes. Serving fresh healthy food for all palates in minutes…
Restaurant in Richardson: Char'd Southeast Asian Kitchen
When it comes to finding a restaurant in Richardson, looking for a place to eat could be a monumental task. With so many options around, finding a dining option that everyone can agree on might be a little tricky.
In Richardson, TX you have your choice of fast-food chains as well as restaurants where people can grab a bite. There's a variety of American food as well as exotic culinary options. However, we still found a void when it comes to diners wanting something different and unique.
That's why Char'd Southeast Asian Kitchen restaurant in Richardson Texas is your best option if you want to try new flavors and have an amazing experience.
Char'd is an Asian fusion cuisine restaurant, where we mix the best of Thai, Japanese, Korean, Vietnamese, and Hawaiian cuisine to provide our diners with a quality dining experience. It's the best of all of the Asian foods!
We offer a wide variety of dishes to please all kinds of palates, no matter if you're a vegan, a meat-lover, or if you are on a special diet, we have a dining option for you.
We are well known for our eclectic menu, where you can find appetizers to desserts.
Teriyaki dishes are some of our specialties; the chicken teriyaki bowl is made with chicken tossed in our signature gluten-free teriyaki sauce with mixed veggies (broccoli, cabbage, and carrots) and sprinkled with sesame seeds. The complex flavors of teriyaki sauce while mixed with these ingredients will surely be an explosion of flavors that will blow your mind. Come and visit us!
How to Find the Best Restaurant in Richardson
As you consider the many options for restaurants in Richardson Texas, we believe that Char'd will be the place that suits not only your taste and budget as well. That's why Char'd is considered one of the best restaurants in town.
If you are visiting Richardson TX and want to discover some of the best Asian cuisine, you'll definitely want to plan a visit to Char'd. But don't just take our word for it.
Or use one of the popular review apps on your phone to find out what others think about us. We're proud that our customers love us so much and that they share what makes us so great.
A lot of our reviews come from locals who are experts in the foodie scene here in Richardson TX. Those who reside in Richardson are experts in local cuisine and we love serving them for lunch and dinner at our CityLine location.
Interested in dining with us in Richardson or maybe one of our other locations? Check out our locations page for more information.
No matter which location you choose to visit, be sure to check out our online menu and discover all of our exciting and unique appetizers and bowls before you come.
Since we're known for mixing the best of the different southeast Asian cuisines, we'd love to tell you more about us and our culinary inspirations.
Japanese cuisine
Japan offers a variety of gastronomical delights and continues to grow in popularity among American diners.
Japanese cuisine is characterized by its impeccable presentation, with clean and fresh ingredients. There's a reason this culinary method has gained recognition all over the world in the last decades.
Some of the signature Japanese dishes we've been drawn to include steamed rice, pickles, and dipping sauces. We love how many of the Japanese staples blend in seamlessly not only with other Asian inspired dishes but also with American cuisine.
Japanese cuisine is also known for its stand-out flavors like "umami". This savory taste sensation has its own unique flavor profile which often occurs in fermented foods. Japanese cooking is also known for using a variety of vegetables in their meals.
Thai cuisine
With the influence of both western and eastern, Thai cuisine's signature is harmony within their dishes by incorporating spicy, sweet, sour, and salty flavors. Spicy generally comes from chilies, the sweetness from cane and palm sugar. Certain fruits like lime or tamarind provide the acidity, while soy sauce and shrimp paste give that salty touch.
Fish and seafood are common ingredients when preparing typical Thai meals. You'll often see a mixture of ingredients such as fish sauce, vinegar, and dry or fresh chilies, to create a unique profile of flavors and textures.
Korean cuisine
This cuisine is typically based on rice, vegetables, fish, and tofu. Along with their special seasonings such as sesame oil, soybean paste, garlic, ginger, and chili pepper, this combination makes Korean food a rich and varied cuisine. The type of dishes prepared by Koreans may vary seasonally, even though pickled vegetables are preserved and consumed throughout the year.
Another peculiarity of Korean food are the many side dishes called banchan that are served during the meals. The banchan can vary anywhere from two to twelve in just one single meal. All the banchan you choose will come to you before your meal in small bowls and can be anything from vegetables to meat to seafood prepared in any number of ways.
Vietnamese cuisine
With the influence of both western and eastern, Thai cuisine's signature is harmony within their dishes by incorporating spicy, sweet, sour, and salty flavors. Spicy generally comes from chilies, the sweetness from cane and palm sugar. Certain fruits like lime or tamarind provide the acidity, while soy sauce and shrimp paste give that salty touch.
Fish and seafood are common ingredients when preparing typical Thai meals. You'll often see a mixture of ingredients such as fish sauce, vinegar, and dry or fresh chilies, to create a unique profile of flavors and textures.
Hawaiian cuisine
The mix of many cultures is the result of what we know today as Hawaiin cuisine. Ingredients such as rice, vegetables, ketchup, and pineapple are the foundation of most Hawaiian dishes you'll find on the islands. In this cuisine, the American influence is noticed in the cooking method as well as some of their seasonings.
Nowadays many local Hawaiian restaurants serve the ubiquitous plate lunch (also called loco moco), featuring the Asian staple; two scoops of rice, American macaroni salad, topped with a hamburger patty, a fried egg, and brown gravy. Variations of the dish include Japanese-style tonkatsu or kalua pig and beef.
All these Asian cuisines are what Char'd Kitchen is about and what we have to offer to Texans. We are one of the best restaurants in Richardson Texas, come and have a great time with us!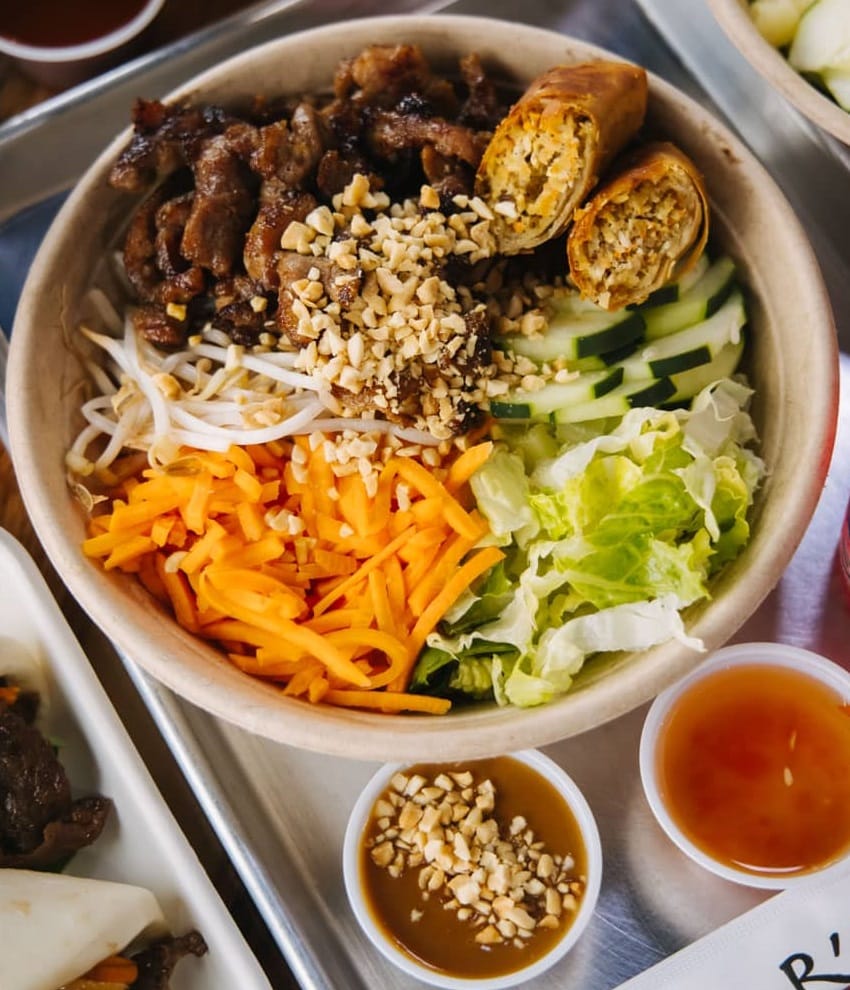 Favorite Teriyaki Meals in Cityline Richardson
If you're looking for a restaurant in Richardson Texas you have plenty of options. As more people have started to try new dishes and explored Asian flavors, Teriyaki meals have gained in popularity and become one of the favorite dining options for Texans.
Dishes like chicken teriyaki are some of the most popular dishes you can find in Cityline Richardson. Made with teriyaki sauce as a foundation, they are often mixed with vegetables and sesame seeds. The deep and sweet flavor of the teriyaki along with the veggies and sesame seeds provides a new range of flavors and textures that will make you a teriyaki-lover once you try it.
It all sounds mouth-watering, right? Order your next Asian-inspired meal including our best selling Teriyaki Chicken at Char'd Southeast Asian Kitchen. Come explore all of the flavors that have inspired us as you build your own bowl or try an appetizer that will transport your taste buds to another side of the world. Click here https://chardkitchen.com/menu/ and check out our menu for more information.
Make Your Own Bowl Asian Fusion Meal in Richardson, Texas
One of the most requested dishes by our diners is our build-your-own-bowls. Because you get to decide what goes in your bowl, our diners love the versatility and creativity they can achieve in just one meal.
We let you choose your base, veggies, meat, and toppings all in one single dish.
Not ready to mix and match your own flavors? No problem! At Char'd restaurant in Richardson Texas we have a wide variety of bowls with several sauces and toppings to choose from. We've chosen the best flavor combinations and created bowls like Thai Red Curry Chicken, Vietnamese Grilled Pork, and Tantali Tofu Salad. However, we still encourage diners to make it their own based on their flavor preferences.
But our most popular of all our bowls option is the "Make your own bowl". We put you in charge as you can choose the ingredients and create your own unique bowl.
First, you'll pick the base which can be white rice, brown rice, salad, vermicelli noodles, or cauliflower rice. Then, you will choose some vegetables like charred corn, grilled onions, romaine, spinach, pineapples, Kimchi, pickled carrots & daikon, cucumber, bean sprouts, soy Shiitake, jalapenos, onions, edamame, seaweed salad, crab salad, and avocado.
Then, you'll choose the protein. You're going to have a hard time deciding between steak, chicken, pork, tofu, tuna, or salmon.
And then lastly, you'll pick the sauces and toppings you want. We have a large variety of sauces like firecracker sauce, fish sauce, ginger vinaigrette, gochujang, peanut sauce, red curry, sesame dressing, Teriyaki, Thai chili, and Unagi sauce. Plus, our toppings will give that special touch to your bowl. We offer crispy shallots, wonton strips, green onion oil, cilantro, roasted peanuts, boiled egg, eggroll, fried egg.
Our "Make Your Own Bowl" option is perfect for anyone, whether this is your first introduction to Asian food or you're an old pro. That's the great thing about dining at Char'd restaurant in Richardson Texas, you get to have your bowl, your way!
About Richardson, TX
Richardson is a city in Dallas, Texas with an estimated population of 116,432 people. Richardson is located on U.S. Highway 75 ten miles north of downtown Dallas. As a part of both Dallas and Collin county, Richardson offers residents an urban-suburban combination feel.
There are many restaurant options in Richardson Texas. You'll find many locally owned establishments like Char'd Asian Kitchen as well as many of the chain restaurant franchises.
Because Richardson TX has a laid back vibe, there are plenty of parks, shopping, and entertainment to appeal to families or the single set. Check out just a few of the amazing amenities Richardson has to offer:
Cottonwood Park: An ideal place to spend sunny Sunday afternoons with family and friends
Cityline: 186 acres of dining, shopping and entertainment. Beautifully landscaped and modern architecture, you'll find various activities such as outdoor yoga or wine tastings. And home to Char'd restaurant!
Prairie Creek Park: a dream place to visit. It's known for its scenic landscapes and colorful displays of flowers and plants.
Heights Family Aquatic Center: stands out for its family-friendly environment and fun water attractions like the splash pad and slides
Eisemann Center for Performing Arts: this beautiful facility offers a stunning art gallery as well as star-studded performances throughout the year
Freeplay: take a step back to your childhood as Freeplay has one of the largest collections of retro arcade games. Your entry fee is all you need to play to your heart's content. Try for a high score on all the classics like Pac-Man, Donkey Kong, and pinball.
When you're ready to break out of the norm and try something different, come visit us in Richardson Texas. Grab a bite to eat at Char'd and discover the many exciting activities this north Texas town has to offer. We're just a short drive away from Dallas, Plano, Garland, and Frisco.