Scrumptious Teriyaki Chicken
When considering Japanese cooking, there are a variety of tasty dishes that influence North American cuisine – especially if it's an innovative food fusion!
The United States is a beautiful melting pot of individuals and cultures from all over the world, which is directly reflected in the food we eat. Sushi, rice bowls, and the like are already familiar Southeast Asian dishes that can be found in many states, but Teriyaki Chicken dishes are quickly becoming the most popular.
The word Teriyaki comes from two Japanese words – teri that means "shine" and yaki which means "grill or broil". The teriyaki method can be used with a range of different proteins, but teriyaki sauce is most commonly served in tandem with chicken.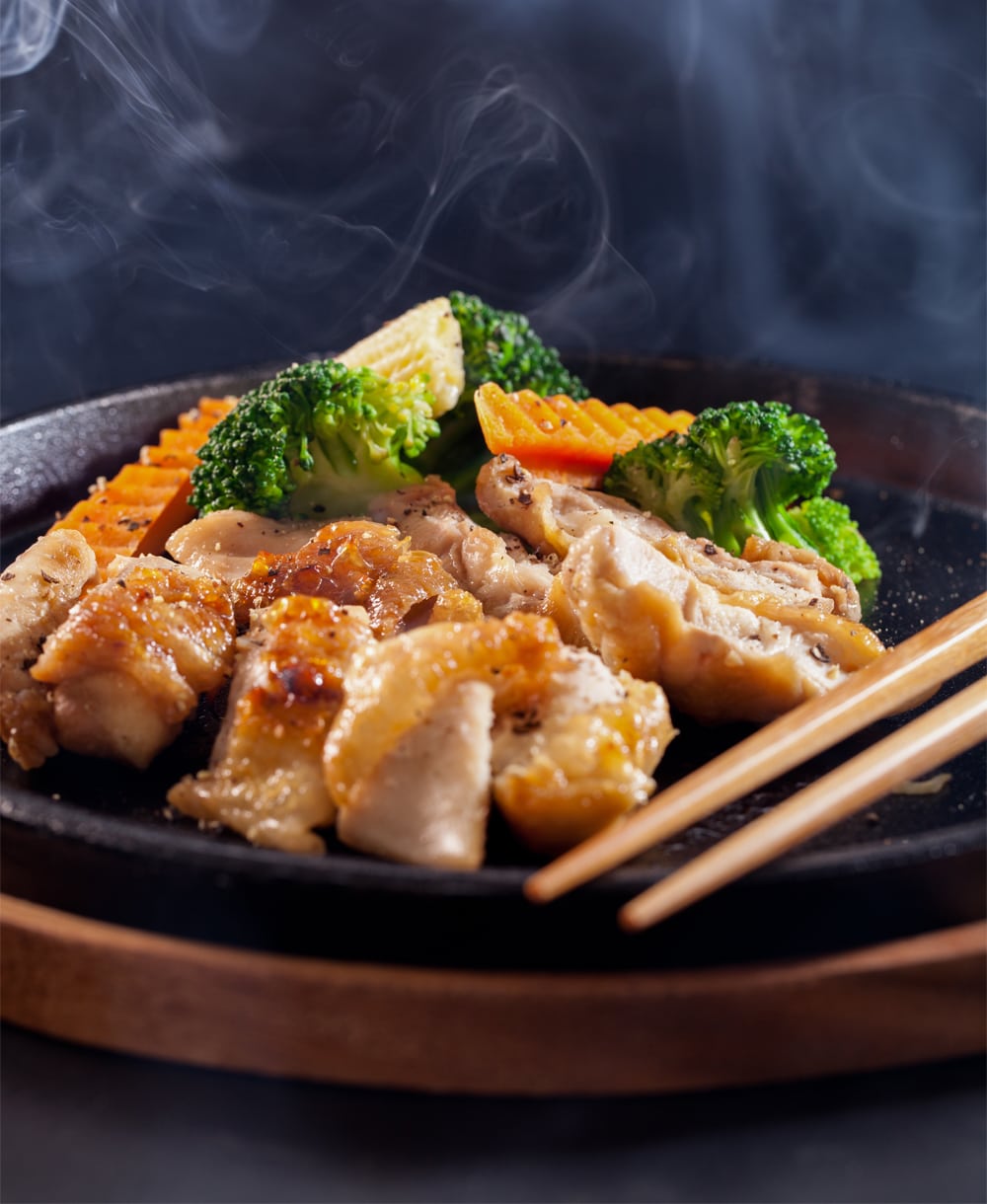 Teriyaki sauce has gained popularity around the world with its distinct sweet and robust flavor. With a soy sauce base, Teriyaki is one of Japan's signature condiments. It is responsible for giving traditional dishes exciting and unique twists.
This popular food is perfect for people that may not be accustomed to Asian cuisine as it combines American and Japanese flavors. Most people find that there is a level of familiarity with the flavor. If you're one of those people that aren't sure if you like Japanese food, Chicken teriyaki is the perfect dish to begin expanding your palate.
Why Teriyaki Chicken Is So Popular
Teriyaki is a Japanese technique utilized in cooking. Simply put, the ingredients are grilled or broiled an additional time after soaking in a teriyaki sauce marinade.
This slightly sweet and tangy sauce is traditionally made in Japan by combining sugar, soy sauce, and mirin (or sake).
The rich, dark sauce we use today is a true fusion creation. It was a popular staple that Japanese immigrants traveled with. Keeping a small taste of home while integrating into a new society was a nostalgic necessity for most.
Teriyaki has been an important Japanese sauce used in almost every traditional Teriyaki Chicken dish for centuries. Throughout the eras, agriculture and modernization have had a significant impact on the variation of its flavor.
However, the 20th century brought an even greater change to this staple sauce. When Japanese individuals immigrated to the United States, the flavors most used in Hawaiian cuisine piqued their interest.
Origins of the popular chicken teriyaki fusion dish can be traced to the addition of Hawaiian ingredients during the 1960's.
The traditional Japanese version of teriyaki sauce took on a thicker consistency when Japanese immigrants mixed in local ingredients like brown sugar and pineapple. Thus began the teriyaki fusion of American and Japanese cuisine. A thicker, sweeter teriyaki sauce was formed by the marrying of the two cultures.
Chicken teriyaki dishes are a large part of Asian fusion cuisine in the United States. While the original sauce has changed due to variations over the centuries, teriyaki is still popular in Japanese restaurants today.
A Flourishing Teriyaki Asian Fusion In Texas
The recent teriyaki restaurant craze began in California but has since spread to other states that have residents hungry for tasty Asian fusion. Texas has always kept Asian food as an integral part of its cuisine, especially in the north.
Northern parts of Texas have pockets of Asian neighborhoods, restaurants, and shops so everyone can experience the unique culture. Texas prides itself on mixing a range of different cultures and cuisines into its food scene.
From mixed vegetables to traditional proteins like chicken, teriyaki sauce is a delicious flavor that Texans enjoy. There are a variety of proteins that can be substituted for chicken if desired, but Teriyaki Chicken is amongst the most popular Asian fusion dishes.
A Teriyaki chicken recipe is commonly found in many Southeast Asian cuisines. Teriyaki Chicken is distinctive yet has a familiar flavor due to its American fusion influence. This makes a perfect dish for those wanting to try a new cuisine that is not entirely based on uncommon American flavors and individuals that have the desire to expand their palates.
Additionally, a quality Chicken teriyaki recipe is a great choice for kids. Moms, dads, and families will have an easy time getting children to enjoy a delicious, tangy dish that simply adheres to a palate that hasn't matured yet.
Read below to discover the reasons why Chicken teriyaki dishes are one of the best options for adults and children alike!
Effortless to Make – most Chicken teriyaki dishes focus on the sauce. Once you have a firm grasp on how to create a tasty teriyaki sauce, almost any protein and carbohydrate can be used to produce a tasty Asian-American fusion dish. A basic Chicken teriyaki recipe does not take a long time – only about 30-40 minutes with preparation included.
Accessible Ingredients – learning how to make Teriyaki Chicken is simple, once you're aware of the ingredients and kitchen methods. The base ingredients typically consist of a soy sauce base, a type of sugar, Mirin, and water. These ingredients are available at a wide range of stores, shops, and even restaurants.
Variations – Since teriyaki time, or the time it takes to prep the protein and the sauce, is short, there is room to get creative. Switch up the protein, or even add extra spices to the dish. Ginger and garlic are common additions to teriyaki sauce that help form an extra layer of flavor.
Simple, Easy-To-Find Restaurant Options like Char'd Southeast Asian Kitchen offer a range of teriyaki dishes for everyone! Teriyaki Chicken is a tasty option for those that enjoy a tasty protein mixed with a rich, tangy sauce.
How to Make Teriyaki Chicken Sauce
The secret to how to make teriyaki chicken begins with an established, robust teriyaki sauce. Teriyaki sauce is versatile and customizable, depending on the tastes of the individual.
However, Chicken teriyaki dishes are among the most common protein combinations with the sauce. Since chicken tends to be moist, a lot of the flavor from the teriyaki sauce is absorbed and creates a new layer of taste when eaten together.
Teriyaki sauce is a staple condiment in Japanese fusion cuisine that can be customized and adapted easily. Homemade teriyaki sauce often turns out a little thicker than the restaurant sauce. It takes mere minutes to make and is much fresher and tangier than store-bought sauce. Restaurants tend to offer high-quality teriyaki sauces that encompass all the same elements of a homemade sauce, with an elevated twist.
Char'd Kitchen offers a delicious teriyaki chicken bowl that everyone can enjoy. Tasty, bold flavors make it a perfect dish for kids, people that want to try new cuisines, or even individuals familiar with the dish.
The primary ingredients needed to produce a delicious teriyaki sauce are soy sauce, mirin, and a type of sugar. Adding 1 cup of room temperature water and ¼ cup of cold water will aid in thinning out the teriyaki.
Incorporating 2 tablespoons of cornstarch and 1 tablespoon of honey will help thicken the teriyaki sauce to a slightly viscous consistency.
Packed brown sugar (white sugar can be used instead if needed, but it will have less traditional Japanese flavoring) should be combined with ¼ cup of soy sauce to create the homemade teriyaki chicken sauce base.
Optionally, you may choose to add a pinch of Chinese five-spice, ginger, and one clove of finely minced garlic. This is the part of the Chicken teriyaki recipe that you may choose to customize the most, based on allergens, flavor profile, and dietary restrictions. Learn more about the specific procedures by reading further.
First, combine soy sauce, room temperature water, and brown sugar to create the teriyaki sauce base.
Add the cornstarch to cold water to produce the sauce's consistency. Cornstarch and water are often used to either thicken or thin out sauces.
Combine the cornstarch mixture to the teriyaki sauce base over medium heat in a small-sized pan.
Mirin is a traditional Japanese alcohol. Pour in 2 tablespoons to enhance the robust, sweet flavor of the teriyaki sauce. If you can't find Mirin, substitute with sake and add a pinch of sugar to keep the sweet/savory ratios balanced.
Add extra water or cornstarch if the sauce needs to be thicker or thinner
Include any garnishes or extra spices like ginger and minced garlic.
Combine well and stir until hot or when the desired viscosity is reached.
Crispy chicken thighs stir-fried and swimming in a beautiful flavored homemade teriyaki sauce are an incredible protein-teriyaki combination. A hint of garlic, ginger, or Chinese five-spice adds a twist to a traditional Japanese Teriyaki Chicken recipe.
Not interested in cooking yourself? Char'd Kitchen has a delicious teriyaki chicken bowl suitable for everyone! Check out our menu now.
Preparing Your Teriyaki Chicken Meal
Homemade teriyaki sauce is just the beginning. Now you'll need to prepare your delicious Teriyaki Chicken meal.
We recommend using boneless, skinless, white-meat chicken breasts as they are best to use for this particular dish. The chicken from white meat tends to hold less fat, so the flavor from the teriyaki sauce is absorbed into the dish better.
Using a prepared boneless chicken breast will also cut down on your preparation time. If you happen to buy a piece of chicken with the bone in, there will be additional time needed to debone the chicken before stir-frying it in tasty teriyaki sauce.
Once the chicken is deboned, make sure to trim the fat. Again, purchasing a skinless chicken breast in advance can help diminish the chicken prep time. Coat the chicken lightly in your preferred seasonings.
Once the main protein (chicken) and sauce are prepped, it is time to consider your additions. Typically, well-rounded Chicken teriyaki dishes, especially the ones served at Char'd kitchen, include a variety vegetables.
Cut broccoli, carrots, peppers, or any type of vegetable preferred to add more nutritional value to your tasty Chicken teriyaki meal. If desired, rinse white or brown rice, add water, and cook until the water is fully absorbed or when the rice reaches the correct texture. Download menu.
How to Make Teriyaki Chicken
Use your tasty, homemade teriyaki sauce and combine it with pan-seared chicken to complete your teriyaki chicken dish!
Heat oil in a non-stick pan
Add the chicken and let cook until lightly browned on the bottom
Flip the chicken pieces over and cook the other side fully
Pour the previously made teriyaki sauce into the skillet once the chicken is just nearly finished cooking through and let the sauce cook and simmer until thickened.
In the meantime, grab your prepped veggies and preheat the oven to 350 degrees.
Cook your desired vegetables for the appropriate amount of time.
Easy as that! Serve it warm with the fully cooked vegetables. If desired, rinse, cook, and serve rice as a side dish.
Where to Get Chicken Teriyaki Near Me
Char'd Southeast Asian Kitchen has a variety of different options, but it's the perfect place when looking for Teriyaki near me. Char'd Kitchen prides itself in delicious, authentic Asian fusion food.
Char'd Kitchen, a family-owned restaurant chain, offers the best teriyaki meals in Fort Worth, Mansfield, Richardson, and online.
Char'd Kitchen gives people the freedom to mix and match different Asian flavors, including our famous teriyaki. Homemade, sweet, tangy teriyaki sauce can be found in Char'd Kitchen's new signature teriyaki bowl. The dish is enticing, and the delicious teriyaki sauce envelops the chicken in a myriad of innovative flavors.
Not every Asian fusion restaurant offers teriyaki dishes. Char'd Kitchen focuses on the quality of ingredients, bold, beautiful flavors, and an excellent experience.
When searching for "tasty Teriyaki Chicken near me," Char'd stands out as a new, memorable Asian fusion restaurant. Explore why ordering from Char'd is the best option to satisfy your hungry family!
When you come to a great teriyaki place you want to make sure they use high-quality ingredients for their meals. That's why Char'd selects the highest quality to ensure that all of our meals including Teriyaki chicken will provide our guests with a delicious meal every time. We pride ourselves on providing diners with an exciting adventure of flavors that can be combined and enjoyed.
So whether you're looking for a place to take the whole family, a quick lunch, or something to nosh on while you're enjoying your favorite streaming channel at home, Char'd is the answer!
Don't forget to check out our menu for all of the other Asian inspired meals we offer, like Banh Mi, Poke bowls, and desserts.