Make your bowl restaurant
Build your own bowl is a great way for people to try some of the best Asian specialties in one single dish. These bowls are made with different ingredients, a base usually made of rice or noodles, and protein (tuna, salmon, sushi-style fish, chicken, meat, or pork). You can also choose the vegetables you prefer, such as onions, peppers, carrots, and lettuce, to seeds, and even beans can be part of your Asian bowl.
Due to their versatility, Asian dishes are now one of the most popular dining options for the average American. They are everything you're looking for in a meal, affordable, delicious, and healthy.
Since these bowls are signature of Asian cuisine, the make your own bowl restaurants use fresh and light ingredients, typical of Asian cuisine. This makes Asian bowls a healthy way to try Asian food on your own terms. Keep reading to learn more about Asian bowls and where to find the best make your own bowl restaurant.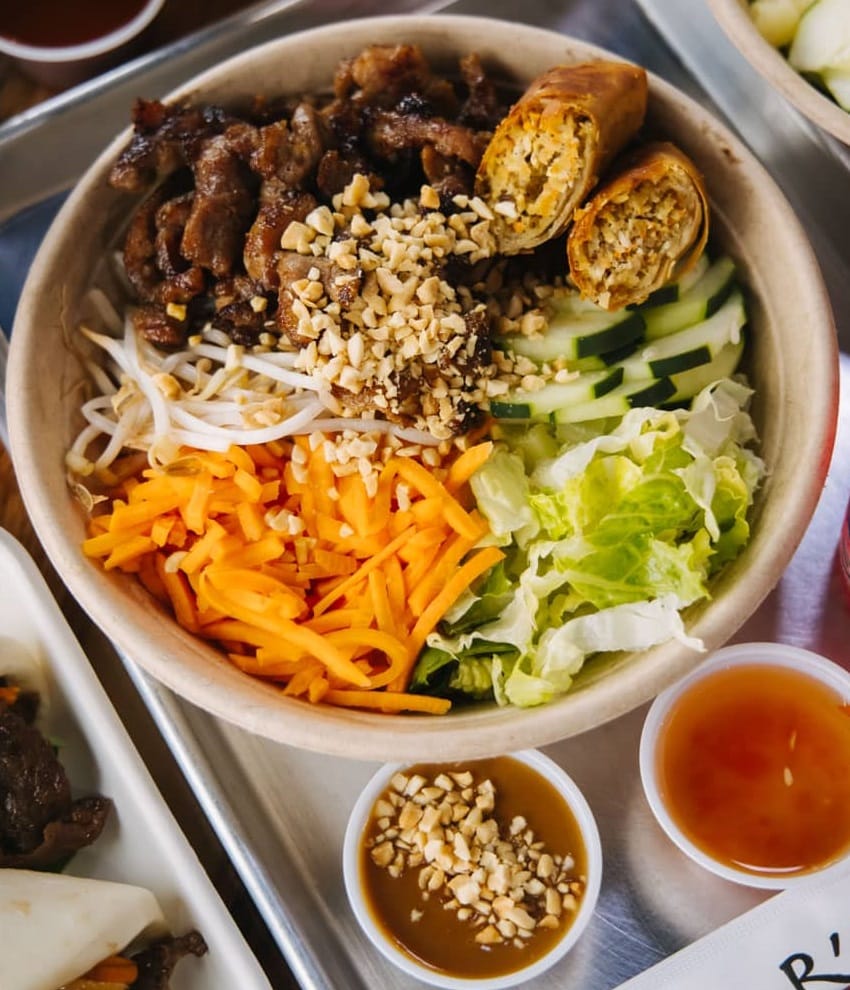 What is a "Build Your Own Bowl"
With globalization and the boom of social media, gastronomy from around the world has started to gain recognition quickly. Asian cuisine is one of the most expanded today, with at least one restaurant in every city in the US, there are more and more people interested in trying the exquisite dishes Asian cuisine has to offer.
With several dishes on the average Asian cuisine menu, there is one of them that has conquered the palates of both locals and tourists in the main cities of America. We're talking about the build your own bowl option. This dish allows you to create a customized and delicious Asian dish with a wide variety of ingredients, this way you have access to hundreds of ways to make your own bowl restaurant.
With this late micro customization, customers get exactly what they ask for. And even when some restaurants can't please this demand, southeast Asian restaurants are willing to give you a customized delicious Asian bowl where you can taste the best of Southeast Asia in one single dish.
Besides customization, one of the reasons why make your own bowl restaurant is famous is because of its freshness and particular taste.
One of the things that distinguish Asian bowls from other dishes is that most of the ingredients used to build your own bowl are light and fresh. Ingredients like lettuce, onions, carrots, and fresh fish are one of the most used and preferred by customers when trying southeast Asian bowls.
On the other hand, another particularity about Asian bowls is that even when the fresh ingredients are the stars of the dish, some other ingredients add an extra flavor layer. Elements like kimchi, gochujang sauce, and even dehydrated seeds give that extra deep and strong flavor we all crave when trying Asian bowls for the first time.
If you're looking for a palace where you can build your own bowl in the best Asian style, you have come to the right place. Keep reading to learn more about making your own bowl restaurant, its benefits, and the best southeast Asian restaurant near me.
EXPERIENCE AUTHENTIC SOUTHEAST ASIAN MEALS IN RICHARDSON, TX
We are here to fuel people's creativity with countless paleo, low carb, gluten-free and vegan-friendly fusion dishes.
How Building Your Own Food Bowl is Beneficial
As we mentioned, bowls are a light and healthy dining option. They are easily adaptable to any diet and preferences of diners.
Asian bowls are also considered one of the preferred fast and easy dinner options for young Americans. Whether you're cooking for yourself or a group of people, friends, or family, bowls are a great option to please every one of your diners with a tasty delicious Asian dish.
These bowls are traditionally made with a combination of rice, vegetables, oil, seasonings, and diced raw fish, such as tuna, salmon, or snapper. Even when that is the traditional way of building your own bowl, today there are endless options for you to choose from and create a unique delicious Asian bowl.
Due to its variations, when you visit a make your own bowl restaurant you'll discover they typically offer a wide variety of ingredients far beyond the traditional. This allows you to adapt your Asian bowl to your diet and taste.
Rich Nutrient Meal
Asian bowls typically have a main ingredient such as protein like fish, beef, chicken, or pork. Vegetables can also be the star of the dish – all of which are rich nutritious food.
The most common vegetables used in the Asian Bowl are avocados, garlic, onions, and carrots, which are rich in vitamins, minerals, fiber, and antioxidants, all of which contribute to your health in general.
Fish are a great source of protein and omega-3 unsaturated fatty acids, which are important for brain function, heart health, and reducing inflammation. However, Asian bowls are usually made with white rice, a highly processed grain that is low in fiber.
Great Source of Carbs for Athletes
Asian bowls are usually made with sesame oil, which can contain excess calories. However, for people that need to consume a high quantity of calories per day like athletes and fitness enthusiasts, Asian bowls are a great way to achieve their daily calorie intake.
Since you have vegetables, carbs, and protein in one single dish, it's more common for high-performance athletes to opt for building their own Asian bowl to get the right amount of protein and calories in one single and delicious dish.
The Preferred Dining Option by Vegetarians
Asian bowls are a great option for vegans and vegetarians to have the best of southeast Asian cuisine along with the freshness of their favorite vegetables and grains.
Most of the make your own bowl restaurant options out there offer vegan options which include a larger portion of colorful veggies and using less added oil and soy sauce.
You can also replace the white rice base with whole grains such as barley or quinoa, or grain-free alternatives such as zucchini spirals, edamame noodles, or seaweed salad.
Also, you can substitute the animal protein with protein-rich tofu, tempeh, or seitan that's made from cooked wheat gluten.
Asian bowls also allow you to include fermented foods like pickled vegetables or sauerkraut. Fermented foods contain natural probiotics that help with gut health, reduce inflammation and strengthen the immune system
What to Look for in a Build Your Own Bowl Restaurant
Make your own bowl restaurants are gaining in popularity quickly in the American market. It is rapidly becoming one of the preferred dining options for a significant number of people in the US territory.
The great thing we all love about these restaurants is that they give customers the chance to create a fully customized dish according to their tastes and preferences. No matter what your diet is, there's always a bowl option for you.
If you're looking for an Asian make your own bowl restaurant, there are some things you should keep in mind before giving it a try.
Here we will show you some of the features the build your own bowl restaurants offer, this way you will be able to pick the best build your own bowl restaurant in town.
Build Your Own Bowl is Their Specialty
Even though an Asian restaurant may offer a wide variety of dishes, from appetizers to main dishes, and desserts – they may not offer a build your own bowl option.
Look for a restaurant that offers the customized bowls as the star dish on their menu. They should offer a variety of options for base, protein, and toppings. The more variety, the more likely you are to find something that fits your tastes.
The basic ingredients of most Asian bowls are carbs, vegetables, proteins, and Asian dressings. Ask if they offer options for vegan, vegetarian, or gluten free dieters.
They Have a Wide Variety of Ingredients
It's expected for a make your own bowl restaurant to have several options for diners to choose from when building their own bowl. This will not only give you more options to choose from but also gives the chance to other people on strict different diets to be delighted by the great taste of Asian bowls.
A good build your own bowl restaurant will offer gluten-free options to replace the carb base, which is usually made of rice or noodles.
And if you're a big fan of dressings, a good Asian restaurant will have at least more than three different Asian dressings and sauces on its menu. Since these are what give that extra flavor that makes you crave more, this is a must-have item on their menu.
Great Customer Service
Like any other restaurant, good customer service is a must-have. We all want to feel comfortable and welcome when going to a restaurant, this will allow diners to enjoy their time at a restaurant. As well as giving the customers the chance to deeply taste the dishes served at the restaurant, and have a wonderful dining experience.
A make your own bowl restaurant should not only provide top-class customer service, but also offer recommendations from the chefs, and what to do to improve your customized asian bowl. Not everyone is familiar with all the ingredients, so the staff should be prepared to offer suggestions so that diners know the flavor profiles when ordering.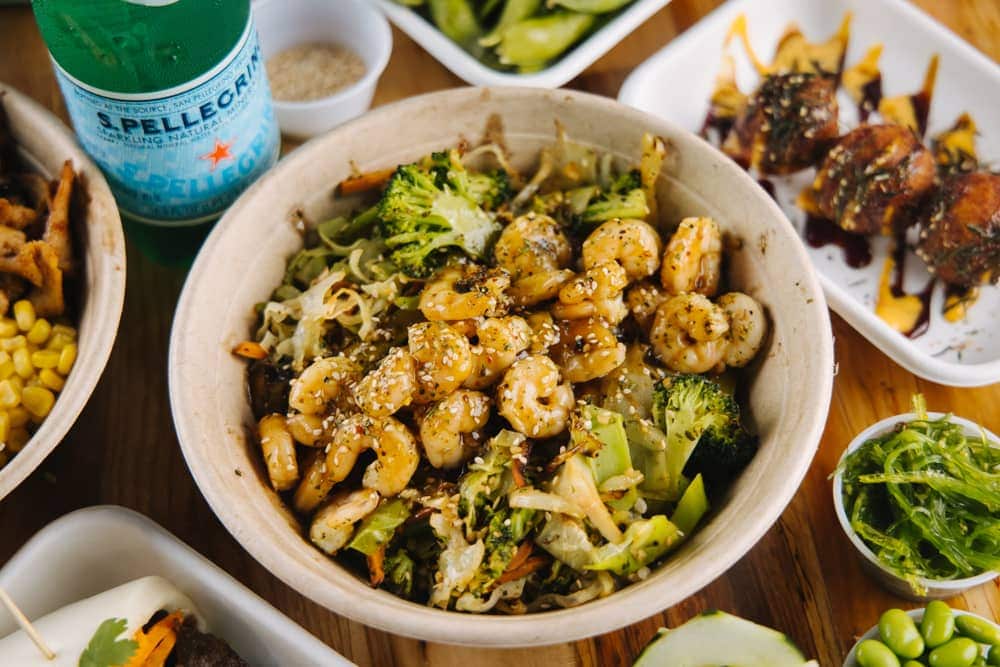 Why Char'd Kitchen is a Popular Restaurant For Its Customizable Menu
We already mentioned why customizable bowl restaurants are a great option for everyone. Versatility, variety, and tasty ingredients made bowls the preferred dish at Asian restaurants.
Even though there are several build your own bowl restaurants, Texas is home to one of the leading Asian restaurants that serve asian customizable bowls. We are talking about Char'd Kitchen Southeast Asian Restaurant.
Char'd Kitchen is an Asian fusion restaurant that mixes the best of Thai, Japanese, Vietnamese, and Koren cuisine along with local American ingredients.
Char'd is known for its signature Asian flavor and beautifully presented dishes that captivate what fusion food is about. Our menu is composed of several delicious dishes from the best Asian southeast cuisines.
Also, Char'd has a special selection of appetizers, main dishes, and desserts that make them one of the most complete and popular Asian restaurants in Texas.
As their star dish is the Asian bowl, they give their customers the chance to build their own Asian bowl. Diners can choose the base, vegetables, toppings, and dressings to make a delicious bowl that gathers the best Asian flavor.
On the menu you can find some default bowls for diners to have an idea of how to build their own.
One of Char'd most famous is the Poke bowl. This Hawaiian fish salad comes with fresh sushi-grade salmon and tuna mixed with pineapples, roasted corn, cucumber, edamame seeds, and firecracker sauce on top of sushi white rice.
This bowl also comes with a splash of spinach, sweet onions, creamy crab salad, seaweed salad, a dash of furikake seasoning, shredded nori, and toasted sesame seeds. The finishing touch is a glaze of unagi sauce.
If you're not really into fish or Hawaiian flavors, they also have the Vietnamese Grilled Pork Bowl. It is made with savory charred pork seasoned in traditional Vietnamese spices on top of white rice or vermicelli noodles accompanied by fresh cucumbers, romaine lettuce, bean sprouts, mint, pickled carrots, and daikon.
Lastly, the Vietnamese Grilled Pork Bowl is topped with roasted peanuts and crispy egg roll with your choice of sweet and salty fish sauce or creamy peanut sauce.
And if you're looking for something different but still Asian, we have created the Char'd Special Bowl. This bowl comes with your choice of rice and protein, topped with stir-fry pea & carrots, onions, corn, and a scrambled egg. Drizzled with gluten-free soy sauce. Just mix the bowl and eat. This dish is great for people on strict diets and looking for healthier but delicious dining alternatives.
Build your own bowls are what make Char'd Southeast Asian Kitchen so unique. Take a look at the menu and you'll see all of the customizable bowl options that you won't find just anywhere else.
Char'd Southeast Asian Kitchen has locations in Richardson, Manfield, and Fort Worth,Texas. Stop by one of their convenient locations and enjoy a wonderful and unique Asian dining experience.
Asian Restaurant Custom Bowls: Healthy, Fresh and Fast!
Select a Journey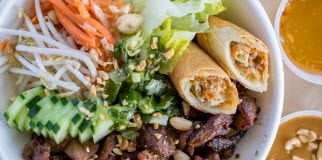 #1 - Vietnamese Pork Noodle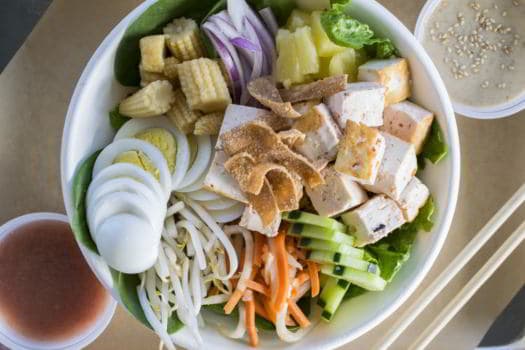 PICK YOUR BASE
White Rice : gf, v
Brown Rice : gf, v
Salad : gf, v
Vermicelli Noodles : gf, v
Cauliflower Rice ($1.99) : gf, v
PROTEINS
Steak ($9.95) : gf
Chicken ($8.95) : gf
Pork ($8.95) : gf
Tofu ($7.95) : gf, v
Tuna /Salmon ($9.95)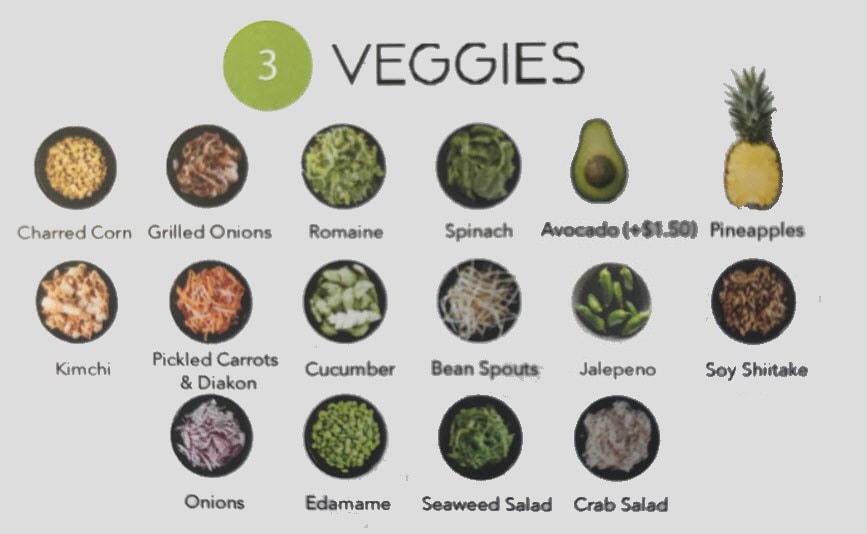 Charred Corn : gf, v
Grilled Onions : gf, v
Romaine : gf, v
Spinach : gf, v
Pineapples : gf, v
Kimchi : gf
Pickled Carrots & Diaknon : gf, v
Cucumber : gf, v

Bean Sprouts : gf, v
Soy Shiitake : v
Jalepenos : gf, v
Onions : gf, v
Edamame : gf, v
Seaweed Salad : v
Crab Salad
Avocado : gf, v
SAUCES
Firecracker Sauce : gf
Fish Sauce : gf
Ginger Vinaigrette : gf, v
Gochujang : v
Peanut Sauce : v
Red Curry : gf, v
Sesame Dressing : v
Teriyaki : gf, v
Thai Chili : gf, v
Unagi Sauce : v
TOPPINGS
Crispy Shallots : v
Wonton Strips
Green Onion Oil : gf, v
Cilantro : gf, v
Roasted Peanuts : gf
Boiled Egg + $1 : gf
Eggroll + $1.50
Fried Egg + $1 : gf
Gluten-Free
All bases (rice, salad, and noodles)
Protein
Lemongrass Pepper Tofu
Pork
Chicken
Steak
Shrimp
Veggies
Char'd corn
Grilled onions
Romaine
Spinach
Kimchi
Sprouts
Cucumbers
Jalapeno
Red onions
Pineapples
Edamame
Cilantro
Toppings
Sesame seeds
Crushed peanuts
Green onion oil
Nori
Sauces
Sweet thai chili
Firecracker
Fish sauce
Sesame dressing
Ginger vinaigrette
Red Curry
Teriyaki Sauce
Extras
Avocado
Fried egg
Boiled egg