5 Southeast Asian Food You Must Try While Living In Texas
Texas is known for a lot of things. From cowboys and wide open spaces to metropolitan areas known for opulence and indulgence, there's a wide variety of people and places.
While it is true that there is a strong Mexican influence in Texas dining, there's a strong growing culture of Asian inspired culinary. More and more Texans are discovering Southeast Asian cuisine and they can't get enough of it.
Southeast Asian cuisine is, in fact, such a fast-growing phenomenon that there are Asian restaurants popping up all over Texas. From Houston to El Paso and Amarillo to Brownsville, Southeast Asian dishes are becoming preferred over traditional Texas fare.
View Menu
Order Online Today
What is Southeast Asian cuisine?
Southeast Asian cuisine is food that has been popularized in regions like Japan, Thailand, Vietnam, and Korea. Because seasons and cooking techniques have evolved over time, there is a lot of crossover within these areas.
This means that it is difficult to define just one particular area as the origin and the inspiration for Southeast Asian food.
In fact, a lot of regions influence the next so there is a fusion of cooking techniques and flavors. Also, with immigration and colonization, many of these areas have dishes with foundations in another part of the world.
For example, you'll find some dishes like the Bahn Mi that were heavily influenced by the French.
However, there are a lot of similarities in Southeast Asian cooking. Many dishes are known for their intense and multi-layered flavors and aromas. They typically use traditional over-flame cooking techniques and are presented with lots of colors.
Each region relies on ingredients that are plentiful in that specific area. So while one dish may be heavy in seafood, the next may combine vegetables, meat, and sauce.
Most Southeast Asian influences utilize healthier techniques for cooking. You won't find many deep-fried items or the use of a lot of unhealthy fats and sugars. With the use of vegetables and meat substitutes, you'll find that Southeast Asian food can be healthier for you.
Japanese Cuisine
Japanese cuisine is known for its amazing presentation with clean and fresh ingredients. They incorporate a lot of fish, rice, and vegetables using soy sauce. However, the Japanese do serve some fried foods like tempura. Our rice bowls and takoyaki are great examples of the variety of Japanese-influenced dishes.
Thai Cuisine
Thai cuisine is a blend of western and eastern cooking and includes rich flavors such as sweet, sour, spicy, and salty. There is also a spicy side to Thai as they utilize chilis in sauces and seasonings. Our Thai Red Curry Chicken provides some of that tasty heat while giving you an extra punch of flavor. Wanna try, thai fusion menu?
Korean Cuisine
Korean dishes typically use rice as the base and then top it with vegetables, fish, or tofu. They also commonly use ingredients such as sesame seed oil and gochujang (a fermented chili paste).
Fermented foods are quite popular in Korea. Kimchi is a common side dish and is also available as a bowl topping at Char'd. Our Bibimbap is a Korean-inspired sliced beef with white rice and sauteed sweet onions and topped with homemade kimchi and more. Do you know korean side dishes?
Vietnamese Cuisine
Vietnamese cuisine has similar flavors to Thai dishes, however, Vietnamese food utilizes more mild ingredients with fewer spices and sauces. Our Vietnamese Grilled Pork tops vermicelli noodles accompanied by fresh veggies and a creamy peanut sauce.
Why is Southeast Asian food popular in Texas?
There's no question that Texans love flavor. With a variety of herbs and spices, a lot of native Texas dishes pack a lot of punch. In this way, Asian cuisine is very similar to the popular tastes of Texas. Not to mention there is a great deal of influence of those that have moved to this area from not only across the country but from across the globe.
Texans are used to exploring new flavor combinations with the growing popularity of exciting options like food trucks and counter-style dining. Similar to street food in Asia, you can get a variety of quick-cook foods in a relaxed atmosphere.
Unlike a traditional restaurant where the mood and staff can be unwelcoming and stuffy. There's a trend to frequent quick dining options where you can dine with friends in a casual fun way. Char'd Southeast Asian Kitchen is a great match for this trend. You can combine not only toppings but flavor combinations that suit your palate.
If you're not ready to dive right into traditional Asian cuisine that you may not be familiar with, a casual dining restaurant is the perfect place to test the waters.
5 Dishes Inspired By Southeast Asia You Must Try
At Char'd, we believe that no one should be intimidated by food. We love playing with flavor and taste combinations that fit your mood.
Maybe you're not a foodie adventurer but you love the taste of teriyaki and noodles. Perhaps you've traveled internationally and you're craving a taste of the street food you encountered there.
Here are five Southeast Asian dishes that you should try at least once.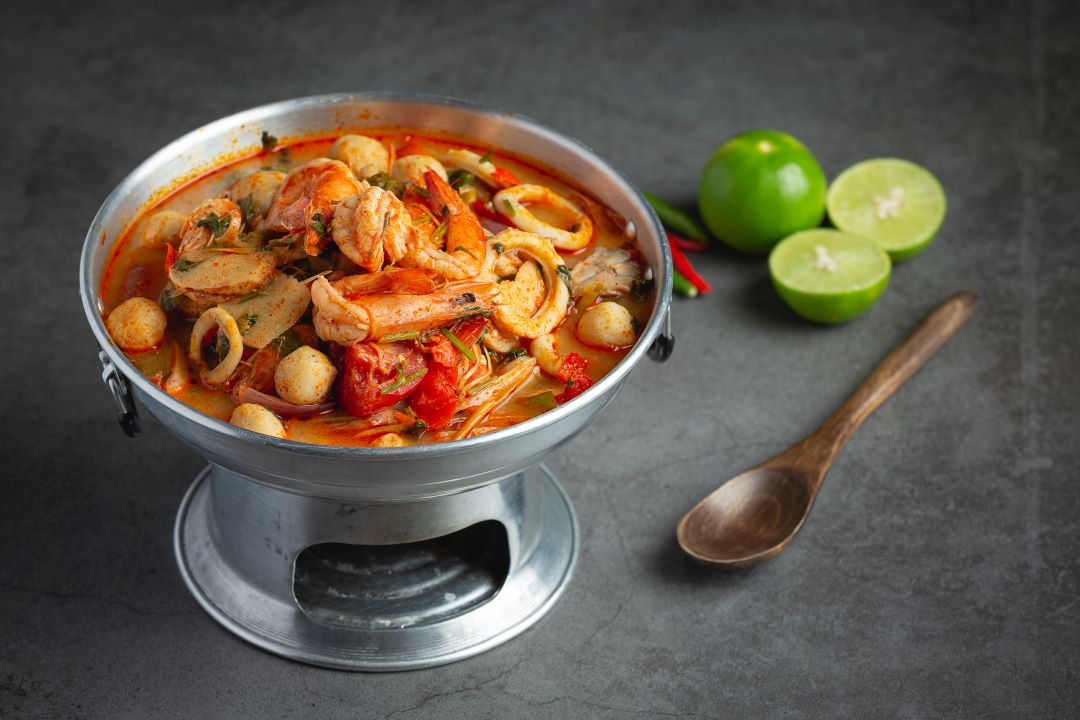 Thai Curries – Thailand
Thailand's legendary curry dishes are known the world over. Although there is an endless list of regional variations of curry dishes, most curry is known for using coconut milk and a blend of spices.
You might be familiar with the term curry when describing Indian food, but Southeast Asian cooking considers a curry as an accompaniment flavor to fish, meat, poultry, or shellfish. Some curries can even be vegetarian.
Thai curries are generally wet and have a sauce or gravy-like consistency. Depending on the spices used, you'll generally see a distinctive color associated with that particular curry. Thai is known for red, green, and yellow curries but other curries include Phanaeng, Massaman, and Khao Soi.
At Char'd our Thai Red Curry Chicken is juicy grilled chicken breast served over your choice of white rice or vermicelli noodles. We then add crisp shredded romaine lettuce, spinach leaves, and pineapples. We top it with our creamy Thai red curry sauce and some roasted peanuts for some added crunch.
Fried Rice
Most people are familiar with white rice and fried rice from Chinese dishes that came to the height of popularity in the late 20th century. It's probably no surprise that rice is also a staple for Southeast Asian dishes. And fried rice is as popular as ever.
Chicken and rice continue to be a fan favorite at all Asian restaurants. Although you'll experience a variety of interpretations among chefs, the ingredients are essentially the same. Chicken and stir-fried rice.
Depending on the inspiration, you may find a variety of vegetables and spices used. But most commonly rice is fried with an egg with small diced carrots or peas. Fried rice has an al dente feel in the mouth and with added soy sauce it's a great accompaniment to seasoned chicken.
At Char'd each of our bowls has a fried rice option. However, our Char'd Special Bowl is one of our top sellers. The Char'd Special Bowl is stir-fried rice, peas, carrots, onions, corn, and a scrambled egg. We top it with chicken and our gluten-free soy sauce.
Gado-Gado – Indonesia
Salads are a wonderful way to enjoy Asian food. They are typically lighter but they pack in a powerful flavor combination. One particular Southeast Asian version is gado-gado. Popular in Indonesia the gado-gado does vary from region to region.
Typically gado-gado will consist of vegetables like green beans and potatoes. You may also find a hard-boiled egg with shrimp. However, vegans and vegetarians can opt for tofu. All of this would be topped with a thick and spicy-sweet peanut sauce.
At Char'd, we came up with our own version of the gado-gado. Since we're inspired by all Southeast Asian foods, we wanted to take the best of everything to create our Tantali Tofu Salad.
First, we take our tofu and infuse it with lemongrass and red peppers. Assembling the salad we start with a bed of fresh greens, cucumbers, pineapple, bean sprouts, purple onions, as well as pickled carrots and daikon.
Lastly, we add the tofu, hard-boiled egg, and sprinkled with wonton strips. The sauce we leave up to you! You can go for the peanut sauce like the gado-gado or change it up with a Thai chili or sesame dressing. Either way, it's delicious!
Spring Rolls – Vietnam
If you've ever traveled to Cambodia, Laos, or any other popular Vietnamese city, you've likely seen spring rolls offered as street food. Sometimes considered a snack or appetizer, these could easily be a meal on their own.
Again, ingredients can vary according to the region it's made, but generally, a spring roll wrapper is filled with a meat (generally pork, shrimp, or chicken) mixed with vegetables, rice, and seasonings. The biggest difference is how the spring rolls are prepared.
Fried spring rolls Cha Gio and Nem Ran are deep fried and create a flaky crispy texture that lends well to dipping and carrying on the go. Traditionally, Chinese restaurants will prepare spring rolls this way.
Steam spring rolls like Goi Cuon are steamed and filled with fresh vegetables like cucumber and garlic shoots, which wouldn't do well fried.
At Char'd, we prepare our Spring Rolls in a traditional Vietnamese style which includes your choice of protein, vermicelli noodles, shredded romaine lettuce, bean sprouts, cucumber, mint, and cilantro with your choice of sweet and salty fish sauce, or creamy peanut sauce.
We serve two spring rolls so that you can either share them as a snack or make them a meal all on their own.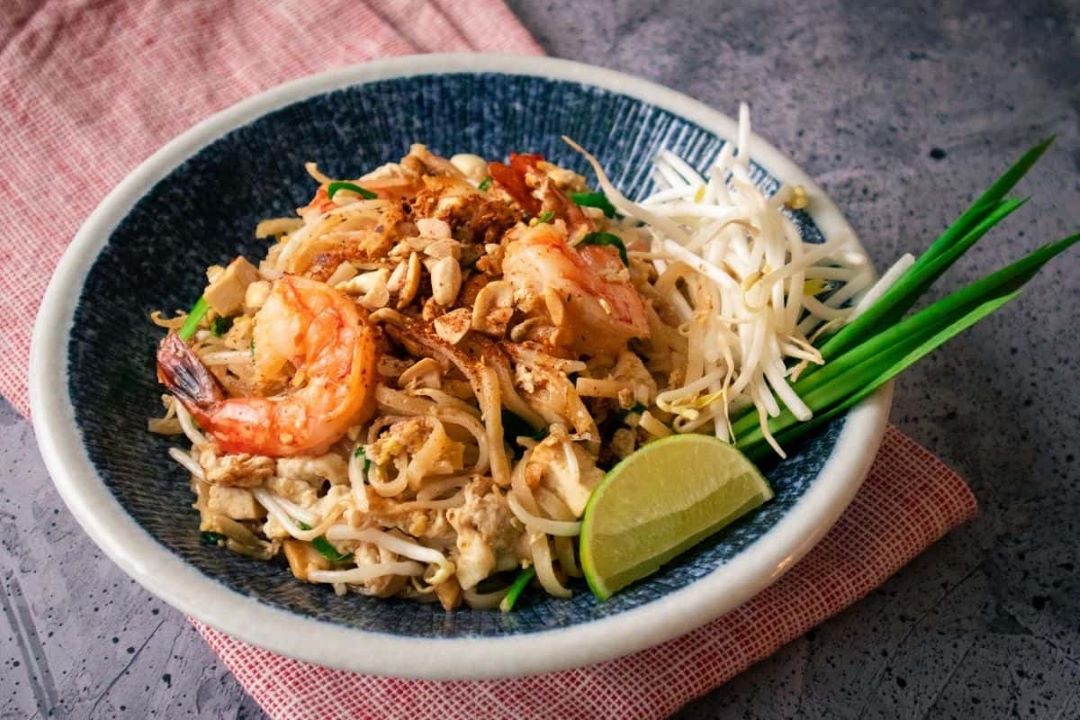 Pad Thai – Thailand
Pad Thai has taken America by storm! In fact, some say that it is more popular in the states than in its birthplace. Although available across Thailand, this widely sought-after dish is made with rice noodles and stir-fried chicken, fish, seafood, pork, or vegetables.
The secret of a really good Pad Thai is the combination of flavors. The right sauce paired with a tasty variety of vegetables and protein makes this America's new comfort food. The rice noodles give it a balance so that there's a good contrast of textures.
Not to mention it's a whole meal in a bowl!
Our Build-Your-Own Bowl at Char'd is our nod to Thailand's Pad Thai. Pick your base with either rice, greens, or vermicelli noodles, and then start building from there. Instead of someone else choosing the flavors, you get to select what's right for you.
No matter if you're vegetarian, vegan, gluten-free, or high protein, your creation is entirely up to you. You can even choose the sauce like our Thai Chili or go more mild with a Ginger Vinaigrette. The possibilities are endless.
Where to find Southeast Asian food in Texas
Asian recipes are full of veggies and proteins, which makes them one of the healthiest dining options. They are also adaptable to all kinds of diets without skimping on flavor.
You're likely already familiar with a variety of Asian cuisines like noodle soups and stir-fries. For Texans, the idea of delving into Southeast Asian food isn't that much different as it has a lot of what you're already craving just with a different spin.
Today more and more restaurants like Char'd include ingredients that are inspired by Southeast Asian cuisine. This fusion is a combination of traditional flavors and cooking styles that are mixed interchangeably.
Asian cuisine is rich in flavor and as we were inspired by the traditional spices and culinary methods used during preparation we created Char'd Southeast Asian Kitchen. Here, we are committed to food prepared with healthy and fresh ingredients so you can enjoy different Southeast Asian delicacies – all in one place.
We offer mouth-water Southeast Asian cuisines that take inspiration from Thai, Korean, Vietnamese, Japanese, and Hawaiian dishes.
If you live in the DFW Metroplex and you're looking for the best Southeast Asian cuisine in Texas, we encourage you to explore Char'd for an amazing and unique dining experience.