Asian Dishes at Char'd Kitchen
Have a love for Asian dishes? You're not the only one. Asian fusion culinary trend is sweeping the nation with increasing popularity, and restaurants far and wide are serving up hearty helpings of authentic Asian dishes.
View Menu
Ask Catering
If you're in the mood for a mouthwatering meal, Char'd Kitchen should be your first stop. With three different locations scattered in Texas, you'll find each restaurant with Asian food that will tickle your palate.
You'll find Char'd Kitchen in Mansfield, Fort Worth and Richardson, TX.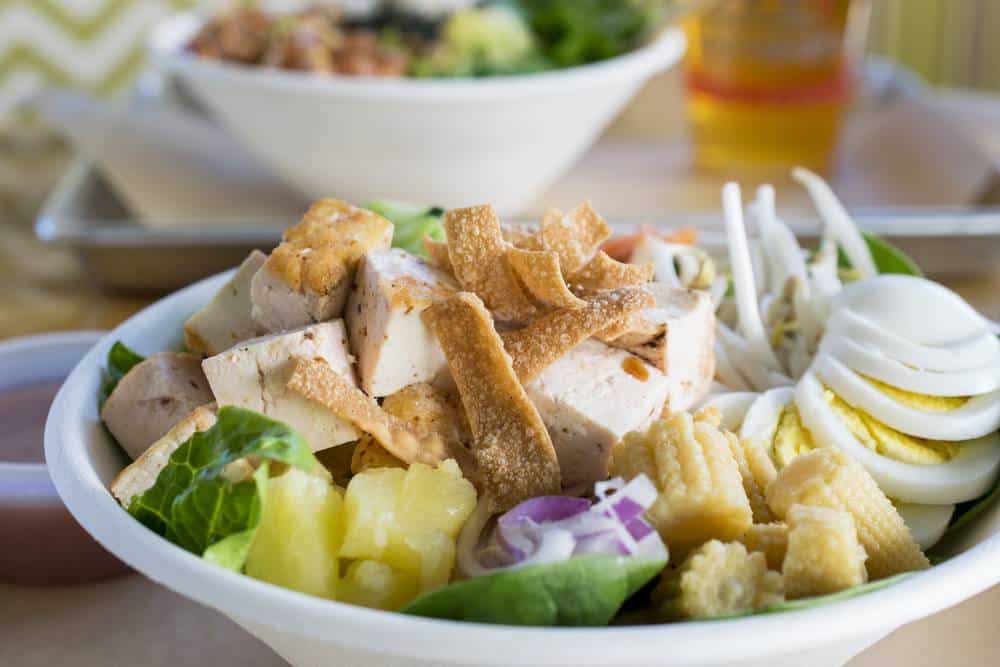 Char'd Kitchen is an Asian fusion favorite that satisfies locals and tourists alike with an array of Korean, Thai and Vietnamese dishes and a vibrant atmosphere.
Enjoy authentic favorites like Vietnamese Pork Noodle, Chicken Curry Bowl, Bibimbap, Poke Bowl and Tuna Salad. With Asian dishes as these good, you're bound to come back for more.
So what exactly is Asian fusion? For those unfamiliar with this unique blend of cuisines,Char'd Kitchen hopes to shed light on its celebrated eccentricities.
Fusion dishes combines multiple culinary styles to create one-of-a-kind dishes. Any cuisine can be combined to cook up a delectable dish, and this creative freedom has led to the expansive growth of fusion restaurants across the country. Asian dishes in particular spotlights a selection of ingredients and cooking styles from several Asian cultures to create unbeatable flavor combinations.
Instead of watching seafood squirm live in a tank or seeing hogs hang from the ceiling, you can enjoy Asian dishes in upscale, lounge-like settings. While the Asian cuisine is authentic, its globalized touches attract hordes of customers. At Char'd Kitchen, authentic Thai dishes and other Southeast Asian food favorites are served in an atmosphere that makes everyone feel at home.
If you want to try something new, the imaginative concoctions by the owners will have you drooling. Come in, get comfortable, and sample delectable Asian dishes at Mansfield, Richardson and Fort Worth's favorite restaurant. Want to get in on this growing trend? Gather up your group or plan date night. But if you feel like having the party at your home, don't worry. Char'd Kitchen caters.
This Asian food catering in Texas is one that caters to gatherings such as meetings, housewarming, rehearsal dinners and all sorts of events. Talk about having a stress-free party. Don't miss out on their famous "Make your own bowl" option. You won't have to worry about guests with different preferences. Let's just say that there are food options for everyone.
You won't have to worry that you have some guests who are in the Paleo diet and some are in a low carb diet. This option lets your guests choose which food they want on their plate. There is something for everyone and it's a guarantee that Char'd Kitchen catering can satisfy all of your guests' appetites.
Catering Events with Char'd
Hosting a party or an event will then be easy as one, two, three. You won't have to worry about the set up as our Char'd Kitchen Catering Chief sets up the food, equipment, and utensils. All you have to do is just sit back, relax and enjoy the party. Isn't that amazing? So, check out Char'd Southeast Asian Kitchen, enjoy their meal and put them on top of your list for food catering.
If you've searched "cuisine of Southeast Asia near me" you're in the right place. At Char'd we put Southeast Asian Kitchen right in our title so that you know you're getting creatively inspired dishes from one of the most popular cuisines among foodies today. However,...
Drop Us a Line
Don't be shy. Let us know if you have any questions!